Resume vs. Curriculum Vitae: What's the Difference?
While resumes and curriculum vitae (CV) are both used in job applications, they are two very different documents.
In this blog post, you will understand the main differences between a resume and a curriculum vitae and the main thing that connects them!
» FREE TRIAL: Get Started with LoopCV & Send Out 100s of Highly-Targeted Job Applications in <10 Minutes
What is a resume?
A resume is a summary of your skills, experience, and qualifications that are tailored to the position you're applying for. It should fit onto one page and include only relevant information that highlights your qualifications for the role.
A résumé for an entry-level employee is usually just one page lengthy, while those who have been in the profession for a time may justify a two-page résumé. Except for education, all industries in the United States will need a résumé.
What is a curriculum vitae?
On the other hand, a curriculum vitae is an in-depth document that provides an overview of your professional and educational history. It can be several pages long and typically includes more detailed information like awards, publications, research projects, presentations, teaching experience, and hobbies.
A curriculum vitae has no length restriction. For someone at the entry level, this will likely result in two to four pages, and more than ten pages for someone farther along in their career. It all relies on the individual's degree of expertise.
In essence, a resume focuses on what makes you most qualified for the job, while a curriculum vitae provides an in-depth look at your professional and educational background. Each document serves its purpose and should be used to highlight your accomplishments in the best way possible.
Types of resumes
Chronological resume
Like a CV, this resume presents your job history in decreasing chronological order, beginning with your most recent employment. Many hiring managers prefer a chronological resume as the usual format.
2. Functional resumes
These prioritize skills and experience over work history. A functional resume structure is excellent if you are changing fields or have minimal job experience.
3. Mixed resume
This is a combination of chronological and functional forms. This resume structure emphasizes your talents and experience before describing your work history chronologically.
4. Targeted resume
This tailored document highlights your credentials and expertise for a particular job position. A focused resume, on the other hand, takes more effort since it is personalized to one potential employer at a time.
Types of curriculum vitae
Chronological curriculum vitae
This is the most frequent curriculum vitae style, and it displays your job history from the most recent position to the most current one. If you have past job experience and want to showcase your talents and project experience, use a chronological CV.
2. Functional curriculum vitae
Also known as a skill-based curriculum vitae, this style emphasizes your talents and job experience rather than your chronological career history. While not as common as a chronological curriculum vitae, a functional CV may be preferred if you have never worked before, have gaps in your employment experience, or wish to change professions.
3. Combination curriculum vitae
This style combines a chronological and functional curriculum vitae. You may showcase your abilities and give a chronological job history by using a combo CV.
What are their main differences?
Before you begin creating either one, it's important to understand the differences, so you can present yourself most effectively and get hired for the desired job.
Very briefly, the differences between a resume and a curriculum vitae are:
Length.
Included information type.
The flexibility to adapt to particular work responsibilities.
Resume:
Skills should be prioritized.
Used when applying for a job in the private, non-profit, or public sectors.
It is no more than two pages long, with an extra page for publications and/or poster presentations if they are very relevant to the position.
After one year in the sector, begin with work experience and position the education portion at or near the conclusion, depending on credentials.
Curriculum vitae:
Academic achievements are highlighted while applying for academic employment, scholarships, and grants.
The length is determined by experience and contains a comprehensive list of articles, posters, and presentations.
Always starts with education and may contain the name of the adviser as well as the title or synopsis of the dissertation.
Also used for merit and tenure reviews, as well as sabbatical leave.
Regarding resumes and CVs, one size does not fit all.
Depending on the position or industry you're applying for, you may need to use a resume or a curriculum vitae, so make sure you understand which is most appropriate for the job you're applying for.
It's also important to note that different resume and curriculum vitae formats depend on the type of job you're applying for. Make sure you understand which format is most appropriate before submitting your application.
What to include in a resume?
Your resume's objective is to provide companies with a summary of your talents and experiences. You should include the following:
Name and contact details
Resume summary or a personal statement
Work experience
Achievements in education
Relevant job-related skills and certifications
What to include in a curriculum vitae?
You should include the following:
Your name and contact details
An overview of your professional background and career objectives
Professional background
Academic credentials
Certifications
Language proficiency
Publications
Honors or awards received
Hobbies and interests
Work as a volunteer
Some examples!
Curriculum vitae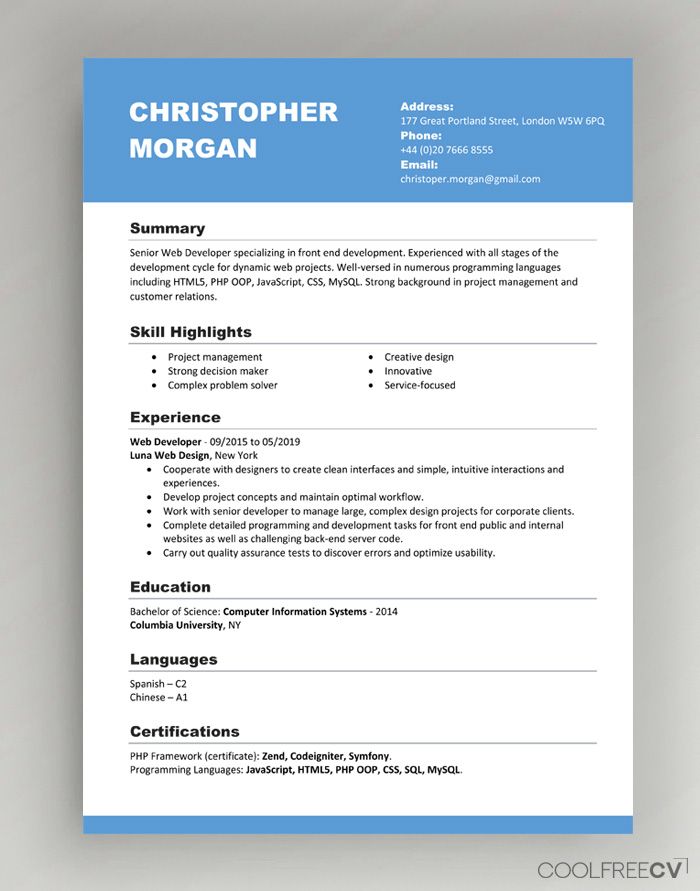 2. Resume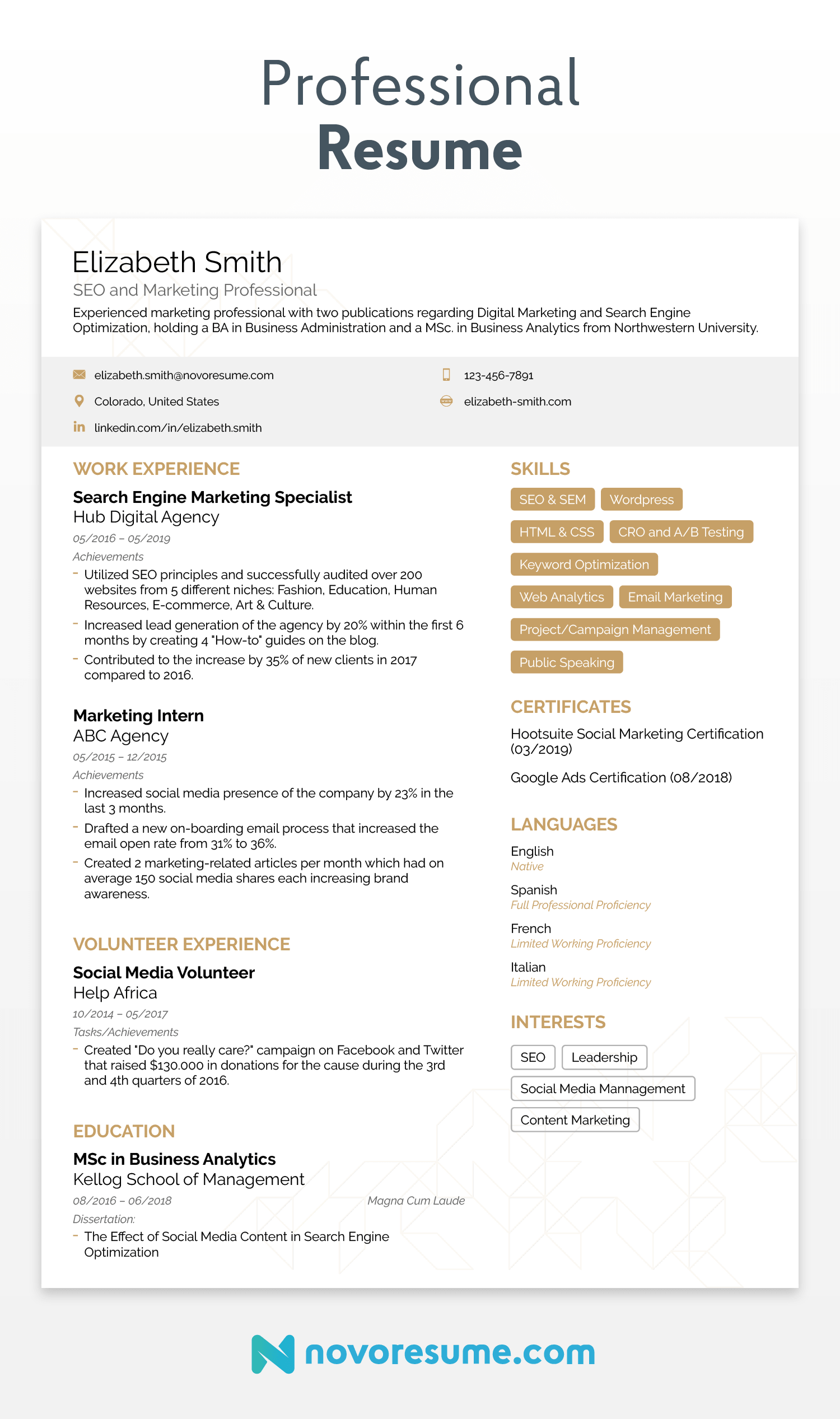 Tips for a good resume
Look for relevant keywords
Each time you apply for a job, study the job descriptions for crucial keywords and incorporate these specific words or phrases in your resume. These are the keywords that an employer is searching for in an applicant.
By analyzing numerous resume examples, you may choose the best structure for you and which content will make your resume stand out.
Include only essential information
A resume, is a summary of your academic credentials and job experience. Make your CV as concise as feasible.
Proofread your resume numerous times to catch any grammatical or spelling mistakes.
Tips for a good curriculum vitae
This may help you understand what information companies are searching for in CVs, such as effective CV structure and CV samples and templates for each job category.
Maintain a simple curriculum vitae
Write your CV in a succinct manner. Your potential employer should be able to quickly explore the paper.
Make your curriculum vitae stand out
In order to make your curriculum vitae to stand out you need to emphasize your credentials and experience. The ones that are directly related to the position you are looking for. To make a positive first impression, including a well-written personal statement.
Proofread your curriculum vitae
After completing your CV, read it once (or twice) to check that there are no spelling or grammatical issues.
» FREE TRIAL: Get Started with LoopCV & Send Out 100s of Highly-Targeted Job Applications in <10 Minutes
How can Loopcv help you?
After the completion and review of your resume or curriculum vitae, you can start sending applications receiving additional feedback about your keywords and selected job types and locations.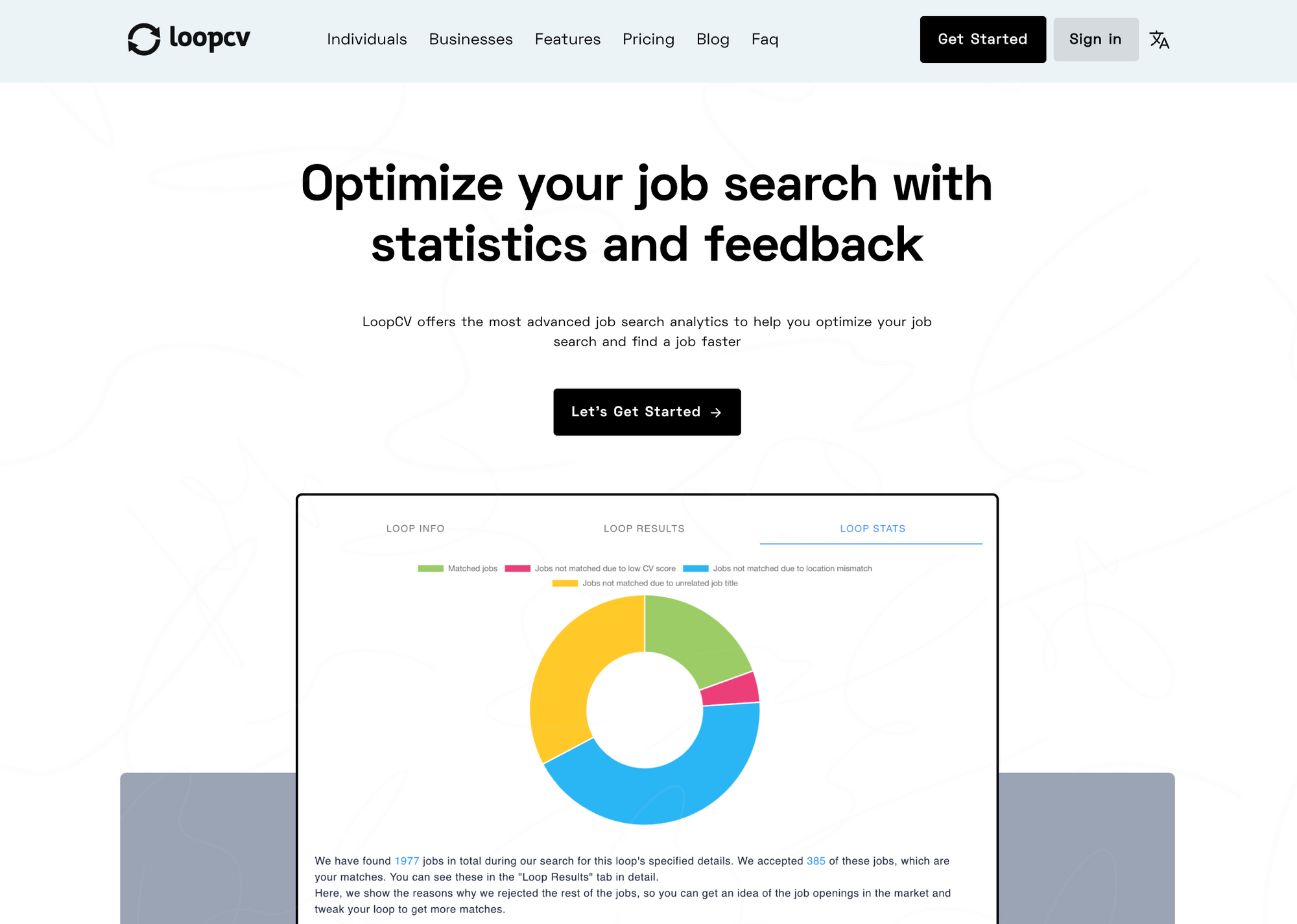 Our platform can help you select the best keywords you have to include in your resume in order to win any ATS (applicant tracking system) and at the same time optimize your profile in order to book more interviews with companies hiring.
In conclusion
With resume vs. curriculum vitae differences in mind, it's time to create the perfect document to highlight your achievements and land the next or new job!
Best of luck!
---
You can also read our articles: