How to announce your new job on LinkedIn (Examples)
If you are a jobseeker, congrats! You've just gotten the job of your dreams at a new company. One of the things you need to do once you have your shiny, pristine new job is to order business cards. But what I bet is not on your list of things to do is 'announce your new job'.
I'm going to get all self-helpy for a second and say that no one can put you in the spotlight but yourself — not even the CEO at your new company. You will be judged by how high up the corporate ladder no one else is allowed and that's on you.
And if you do announce your new position, it's good for both LinkedIn, who get to show their awesome ad targeting and data usage off their platform; and you, who gets more exposure in front of potential employers.
» GOT A JOB BUT YOU WANT TO BE OPEN FOR NEW OPPORTUNITIES? Get Started with LoopCV for Free & Send Out 100s of Highly-Targeted Job Applications daily (zero effort required)
Why you should announce your new job on LinkedIn
You may have noticed from your connections, notifications coming to your tab, stating that a person you are connected with has landed a new job. And it gives you the option to react to their post, either by commenting or by liking it.
Also, you may have wondered why people are announcing that they are landing new jobs and letting all of us know on this platform that they did so? Good question.
And perhaps psychologists would like to be involved in the answer as well, considering the psychological aspects of social media followers. Though, we will give an answer on why it's good that they are doing it. And why should you also apply this move!
Firstly, conceive it as a recognition and reward to your own self. The fact that you achieved to make the change you wanted. Either if this is a change in your job title or a new company.
Sharing your career happiness with the platform that is created for that specific reason (labor market etc.) is a normal thing to do. And it was happening before you announcing it and will keep happening for a long time.
So don't be afraid to show the world your achievement! Secondly, just think that LinkedIn is now the number one professional social media platform. Huge amount of people are finding their job through it.
Thousands of recruiters are trying to find the best candidate through it. So, announcing that you are getting a new position can catch an employer's or recruiter's attention.
Lastly, except the fact that with the announcement of your new job you'll keep your LinkedIn updated. It will be super beneficial for your professional network. If your announcement gets a lot of exposure, then be sure that people in your target group (likewise companies and employers or employees) will mark you.
Also, it's an opportunity for you to thank your previous job, show gratitude and optimism and excitement for the new beginning. Values that are important to be seen.
You can add a QR Code to your LinkedIn post where you can explain in detail about your experience around the recruitment process and what skills helped you acquire this job profile, etc. With Beaconstac, you can create a secure QR Code that helps you give your knowledge further to your connections.
Though, many people don't know how to announce their new job on LinkedIn. That's why we are here to show you some ways to make it happen!
3 simple ways to announce your new job on LinkedIn
1. The best way to start your post is by thanking your previous boss, CEO, manager or generally your company and your co-workers. Your gratitude for the months or years you were working there. The help & support you were given. And the development you gained. To be 100% sure that they will notice it, tag their names on your post!
2. Write your new responsibilites in few words, explaining what your new role will be about. Also, you can share publicly how you found your new job. And if someone helped either that was LinkedIn or a person, thank them as well. That shows your respect and gratefulness towards others!
3. Thank the hiring manager and everyone else involved in your recruting process. State that you are thankful for the clear and fast process. For the help and the opportunity given to show your worth and help to the company. Don't forget to tag their names!
Keep in mind that this post should be small and clear on what you are writing. We have seen people writing huge posts, even 1000 words, announcing their new job. Try to rephrase long copy into clear, concise, and insightful messaging.
Thanking every single one person they know. Bragging a lot about their achievements. Being over and super excited about their new job and describing how they landed it. These are examples of bad cases as they seem not honest. So, please avoid them!
» GOT A JOB BUT YOU WANT TO BE OPEN FOR NEW OPPORTUNITIES? Get Started with LoopCV for Free & Send Out 100s of Highly-Targeted Job Applications daily (zero effort required)
3 Examples of how to announce your new job on LinkedIn
Today is the last day with (name of the company). It was an exciting journey, full of learning for (period of time). I was excited to be part of this team as (job title). Thank you for the continued support (name of manager, CEO, leader) and the rest of the team.
I am excited to announce that I am joining the (name of the company) and contributing to their team as the (job title). I can't wait to grow and learn in this new chapter of my life!
I am in the happy position to announce that I am joining the (name of the company) family as the latest recruited employee for the (job title). I have learned (skills & duties) while in my [previous job]. Thanks to (tag their names) support and help.
I can't wait to see where this new chapter in my career will take me and continue to grow professionally!
There's some exciting news! I am thrilled to announce that I've accepted a new position as (job title) for (name of the company), and I would like to thank everyone involved in my hiring process for giving me this opportunity.
It wouldn't have been possible without the support of my colleagues. It was a long process, but with the best ending. I am very excited to start this new journey!
They are kind of the same templates, but you can try any variations which will be the ideal one for your case!
How to add promotion on LinkedIn
Adding your promotion on LinkedIn is a great way to keep engaging with your network and can also bring you a lot of new opportunities even if you don't believe it people on LinkedIn are always interested about career moves, extending their network and find partners or new employees.
Thus, adding your promotion on LinkedIn is a great way to stay on top of your network and get the attention of them!
Another important reason of why to add your promotion on LinkedIn is because by posting your promotion, you keep your LinkedIn profile and your resume updated opening new career opportunities and synergies!
Remember that old school friend that works in this company? Well, they might reach out to you to congratulate you for the new promotion, while they might be looking for new collaborations or partnerships!
In order to add a promotion on LinkedIn, after you change career, you can follow the steps mentioned below:
1. Go to LinkedIn, and if your account isn't logged in, log in using your username and your password
2. After logging in, click the "me" (your profile) icon. It is in the top-right corner of the browser tab. Then just click the "view profile" option in order to be navigated in your profile settings.
3. Go to the experience section and click on the plus sign (+) in order to add a new experience
4. Add all the required information and select if you want to notify your network for your career changes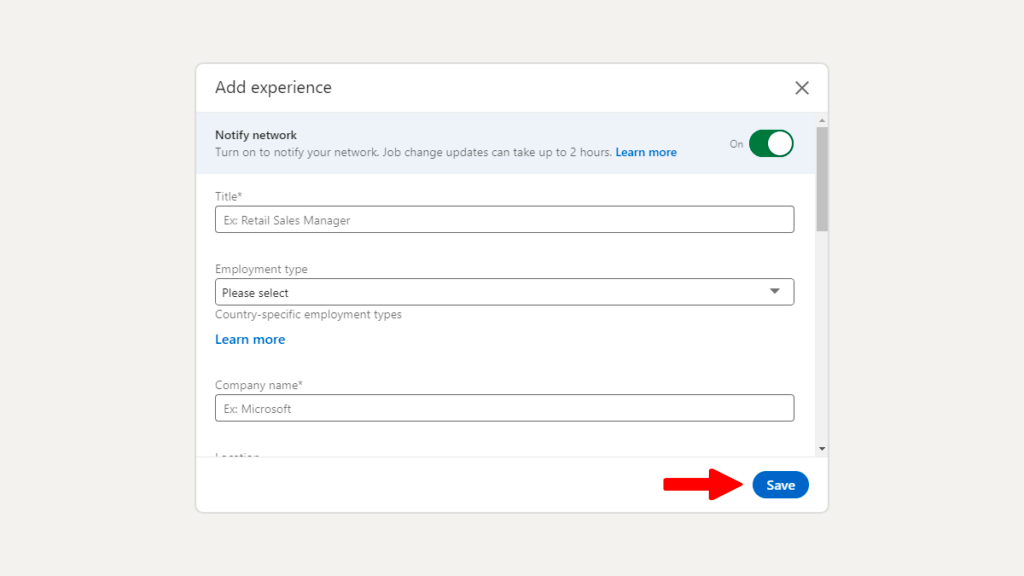 When Is The Best Time To Post On LinkedIn your new promotion?
The short answer is: don't rush. We know that you might be feeling excited about your new promotion and that you are ready to publish it on LinkedIn, but you should be aware that you might face some strange situations.
So don't rush things. Try to ensure that internally you have first indicated or communicated the changes, that all people in the organization are aware and happy with the result, otherwise you might have unwanted situations where some co-workers might react to these change or might not be happy about it.
In any case make sure that before posting anything on social media, you communicate clearly the changes, setting the stage and then celebrate it using LinkedIn!
Conclusion
Before you announce your new job on LinkedIn, make sure that you understand the motivation behind it. LinkedIn is a great place to announce your new job, but it isn't a place to just say "Hi, I got a new job and wanted to let everyone know." Use it to get in touch with old connections, establish new connections, and most importantly, show your support.
If you aren't interested in developing a network around your industry, or establishing yourself as an expert on a certain topic through your writing, there may be other sites better suited for your particular need.
How can we help you land your next job?
If you are looking for the best LinkedIn jobs that match your profile you should give a try to Loopcv, the best platform in the market to help you find jobs that match your CV and your requirements.
Loopcv can also help you automatically submit your resume and send personalised emails to hundreds of companies.

You can sign up using this link: https://loopcv.pro