8 Online Networking Platforms You Should Know About in 2022
One of the easiest ways to achieve business success that has proven to be effective over the years is by building business relationships. Now you can do so through online networking platforms.
Knowing and connecting with people within your industry can put you at the frontline of your career quickly, and you can exchange the edge you'll have with value. Of course, you can reach the peak on your own.
However, with help from people, you can move faster than you will on your own.
The internet has made it easier for people to create business connections. You can find and network with people from your industry on social media and online platforms. Many decades ago, this was considered impossible, but it is now a huge advantage for those who can harness it.
8 Online Business Network Platforms
There are a lot of online networking platforms you can join to meet professionals like yourself.
There is a very large possibility that you are already on LinkedIn for this purpose. However, the platform is already congested on both sides: job seekers and job givers. It's a huge marketplace, and undoubtedly the networking is more difficult.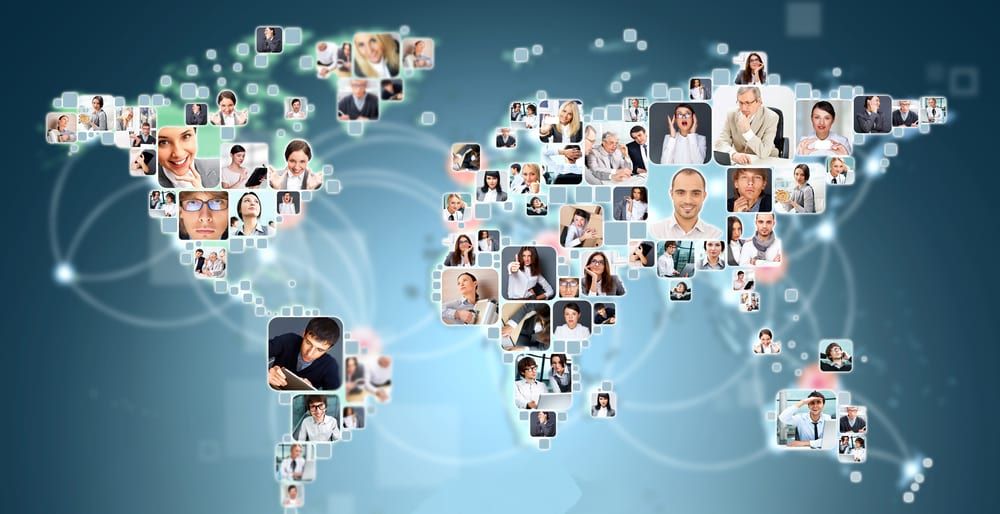 Well, you might be thinking about Facebook. Every Tom, Dick, and Harry knows Facebook as the world's largest social media or online networking platform. However, Facebook is not as professionally driven as LinkedIn or even Twitter.
Talking about Twitter, the bird app (as it is fondly called) is a great online networking platform. Many people perceive Twitter as a place to like, retweet, and interact with strangers. Surprisingly, Twitter is more professionally based than you may think.
77% of Twitter users feel more positive about brands that are community and society focused.
There are other online networking event platforms like Meetup, Quora, Slack, Wistia, and so on. However, this article focuses on online business networking platforms that you should know ahead of 2022.
Here are eight of them.
Run The World
The newly emerging online networking platform Run The World is originally used to organize virtual meetings. However, Run The World serves other purposes which include online networking, too.
On Run The World, you can schedule, organize, and/or attend online events.
Some of these events are organized by industry leaders, influencers, or thought leaders. Run The World allows you to watch and listen to these people as they make their presentations. However, the tool has some other useful features.
You can privately contact a fellow attendee and facetime them. By joining virtual events from people in your niche, you will easily find attendees that you can connect with. When you connect with these people, building a business relationship becomes easy.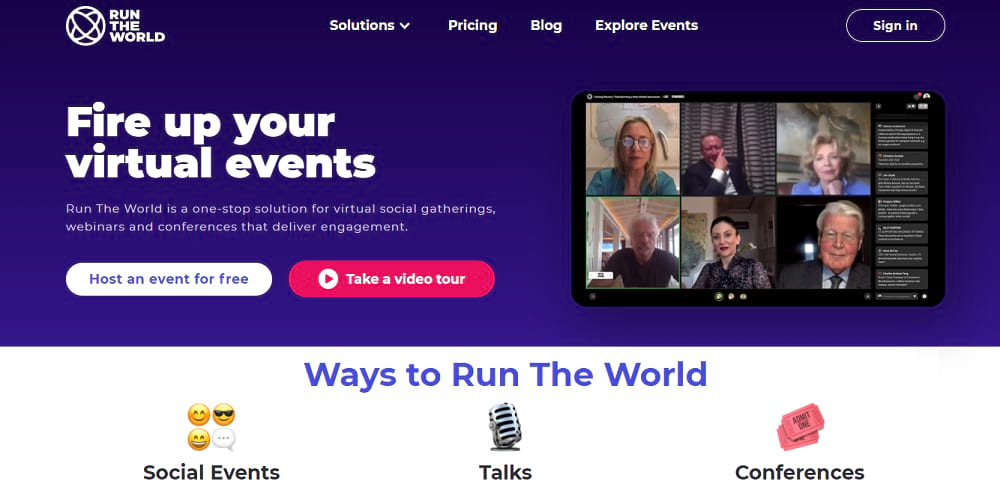 Other than connecting with attendees, you can also join groups where members are allowed to connect. Face-to-Face networking is better on Run The World than it is on most networking platforms. Though new, Run The World has the potential to expand its capabilities and become a networking giant.
Pros
It is easy to use and is affordable.
It allows for face-to-face meetings.
It allows people to meet in groups.
Cons
Proper organization is required for every event.
Attendees must be invited to an event. "Gatecrashing" is not allowed.
Networking is not the primary purpose of the tool.
Shapr
You might know about networking platforms like Tinder or Bumble. Well, Shapr shares a similar means of connecting with people with these apps. You have to swipe to connect or reject connections with people who use the app.
Unlike Run The World, Shapr is built specifically for people to connect.
The app allows users to find people who share the same:
profession
location
interest
After completing your profile on the Shapr app, you get matched with fifteen people every day. You can also search for people using specific features. It is a free-to-use app but it also has a paid upgrade with more advanced features.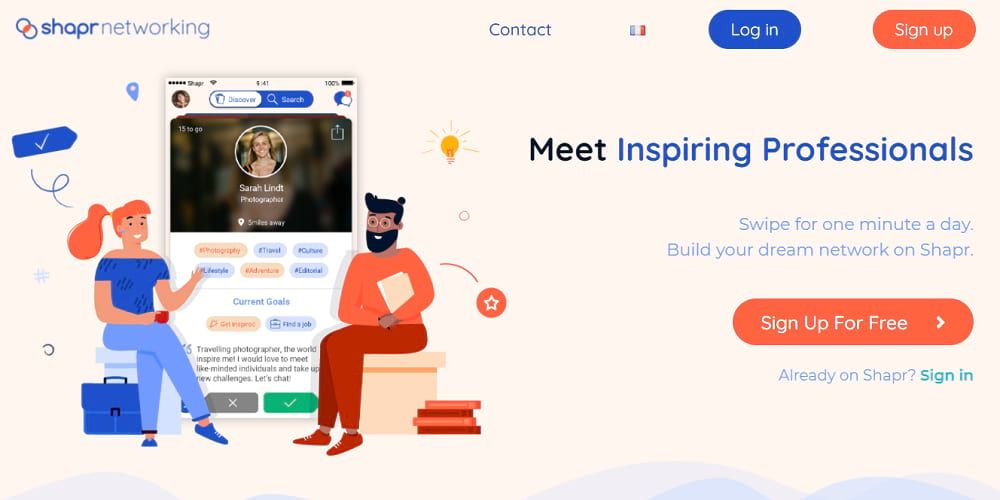 Pros
It is an app, so it is easily accessible.
It is free and user-friendly and has a large number of users.
Cons
It does not have appropriate features to track business connections.
Xing
Xing is a very popular online speed networking platform in European countries such as Germany and many others.
This online networking platform is a modern tool with slick features dedicated to making networking very easy for people. The networking tool is said to be a worthy contender with LinkedIn.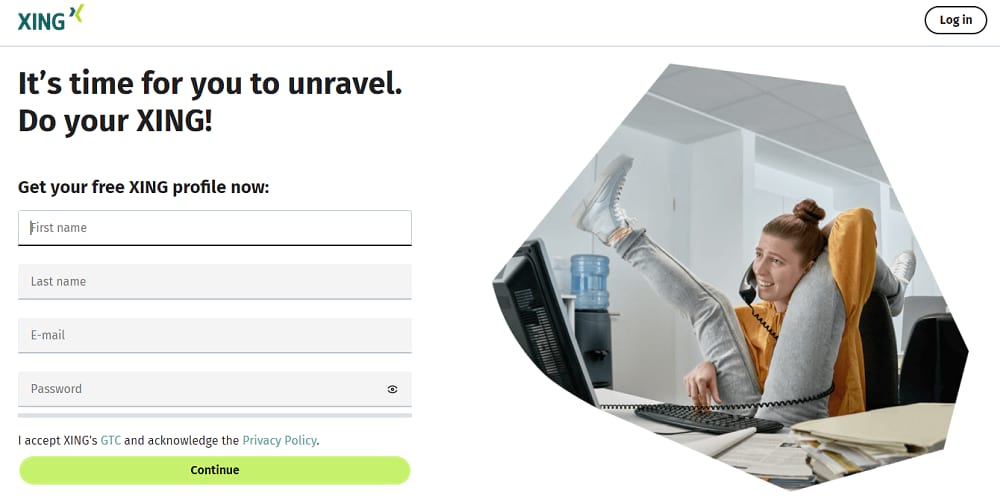 Several people have been able to get jobs from Xing and it is just as easy to connect with people. Finding industry events is also easy on Xing. You can attend these events and meet people that you can build business relationships with.
Pros
It is a free tool.
It can be used to get local and international jobs.
Cons
Though it is a competitor to LinkedIn, it does not have as many users as LinkedIn.
Bizzabo
Bizzabo, like Shapr, is an application that can be used for networking. The app allows people to attend virtual conferences and allows businesses to organize them. It is free to use.
If you are attending a conference using Bizzabo, you can easily meet with others at the conference. Even if the conference is crowded and it is difficult to connect, the Bizzabo app is a great choice. This is because it makes it easy to meet and connect.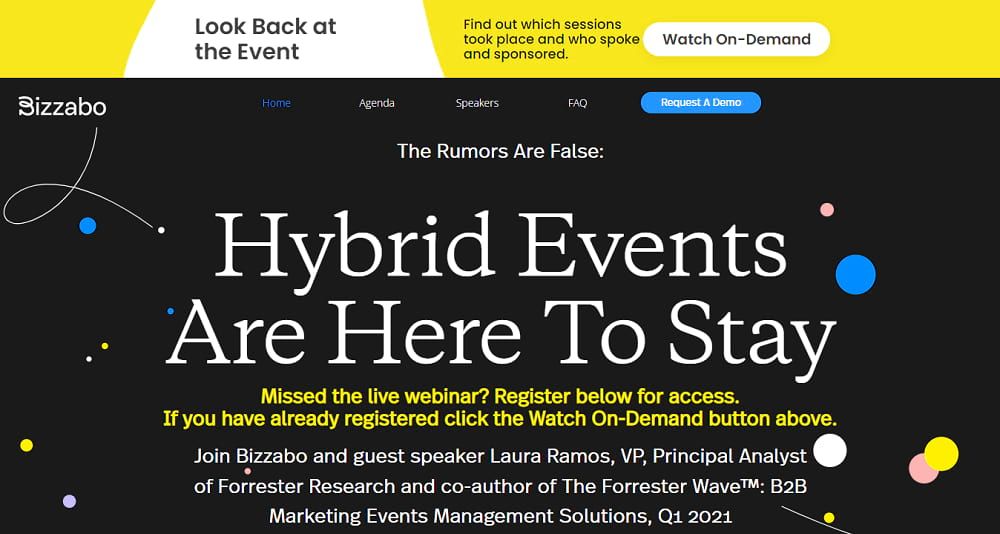 If you are registering for the Bizzabo app, you can use the information on your LinkedIn profile. You can also see the LinkedIn profile of other event attendees when you are at a conference.
Pros
It is a great conferencing app.
It is free.
Cons
It requires technical knowledge to achieve full functionality.
Bizfluenceapp
Bizfluence was created after one of its founders Joel Wolh was banned from LinkedIn for one of his posts. Joel was not happy that he had been censored so he went ahead with Jacob Davis to create a similar app.
The Bizfluence app has no censorship but users are highly encouraged to post only professional content.
Users of Bizfluence are also encouraged to use professional profile pictures so that people can acknowledge them as humans.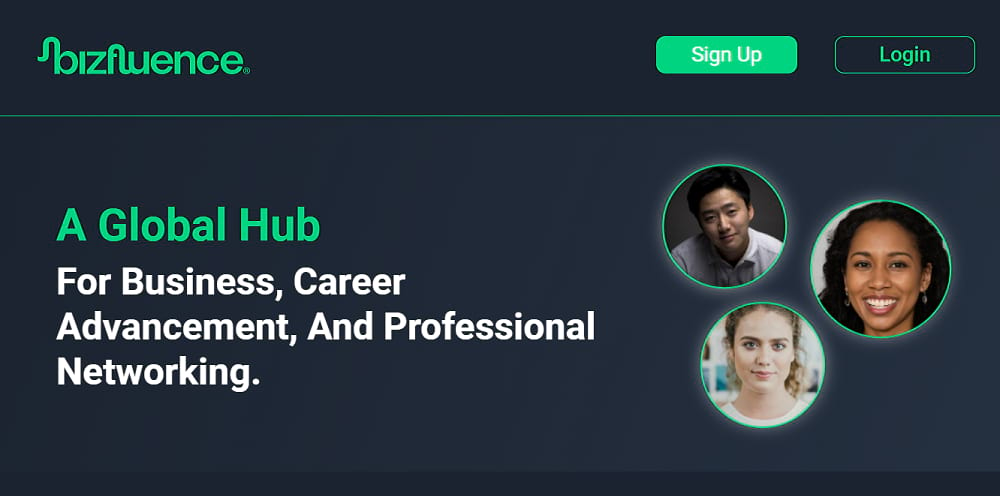 Everyone on the app is committed to helping each other in the best way they can.
Verification on the app is only given to people who are always active and specific professionals in different fields.
Pros
The app has no censorship.
Users are dedicated to offering help to each other.
Cons
Users have complained about experiencing a glitch while using the app.
Lunchmeet
Inspired by a book Never Eat Alone, Lunchmeet allows you to have company with your professional circle while having lunch. Though it is easier to meet more people online, bonding is usually less difficult because Lunchmeet lets people meet face-to-face.
With the Lunchmeet app, you no longer have to spend too much time trying to connect with someone online because signing in requires a LinkedIn account which already has so many connections.
You can schedule a lunch meeting without someone easily and meet up to connect.
To invite someone to lunch on the Lunchmeet app, you will have to enter the person's email address. State where you would like to meet as well as other preferences about the date. The app does not send the preferences to the invitee, so feel free to be yourself.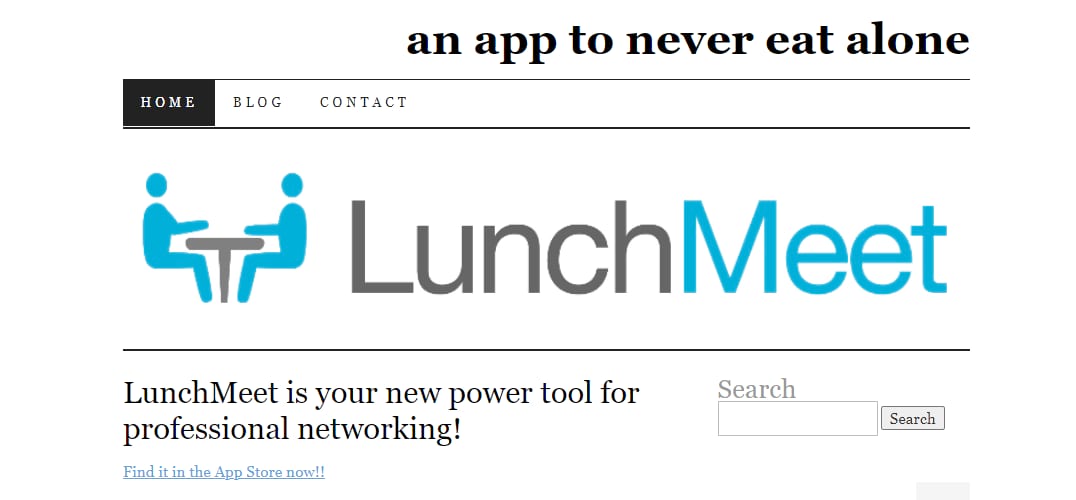 When your invitee receives the invitation, they will also enter their preferences for the lunchmeet. The app evaluates the information that both of you have provided about the meeting.
The app uses the information and recommends local cafés and restaurants using a map.
Never eat alone.
Get ready to eat your lunch with someone whom you might work with someday.
Pros
It is easy to use.
It provides suggestions to ensure that you feel comfortable during your meeting.
Cons
This app is not suitable for shy and reserved people.
Opportunity
Opportunity is an online networking platform where you can connect with people and apply for jobs around you in real time.
The platform matches people together based on the business opportunity.
This matching process is both scientific and significant.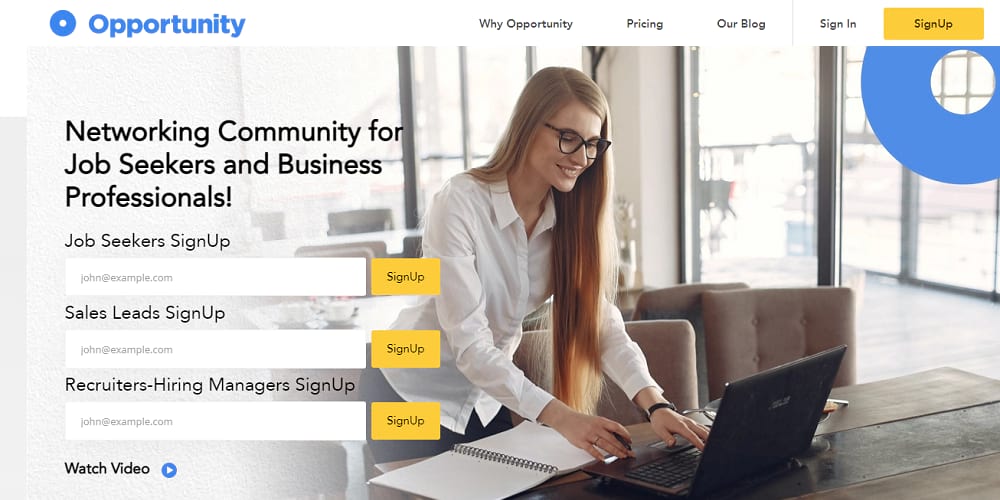 On the Opportunity platform, people salesmen can find leads and pursue the leads till they can make sales from them. Job seekers can also find opportunities while employers can find candidates who are qualified for a job.
Pros
The platform helps you connect with highly relevant people.
Cons
It is real-time.
Intch
Intch is a buzzing community of experts, talents, executives and entrepreneurs from all over the world. This networking platform is unique in its task-oriented and communication scheme.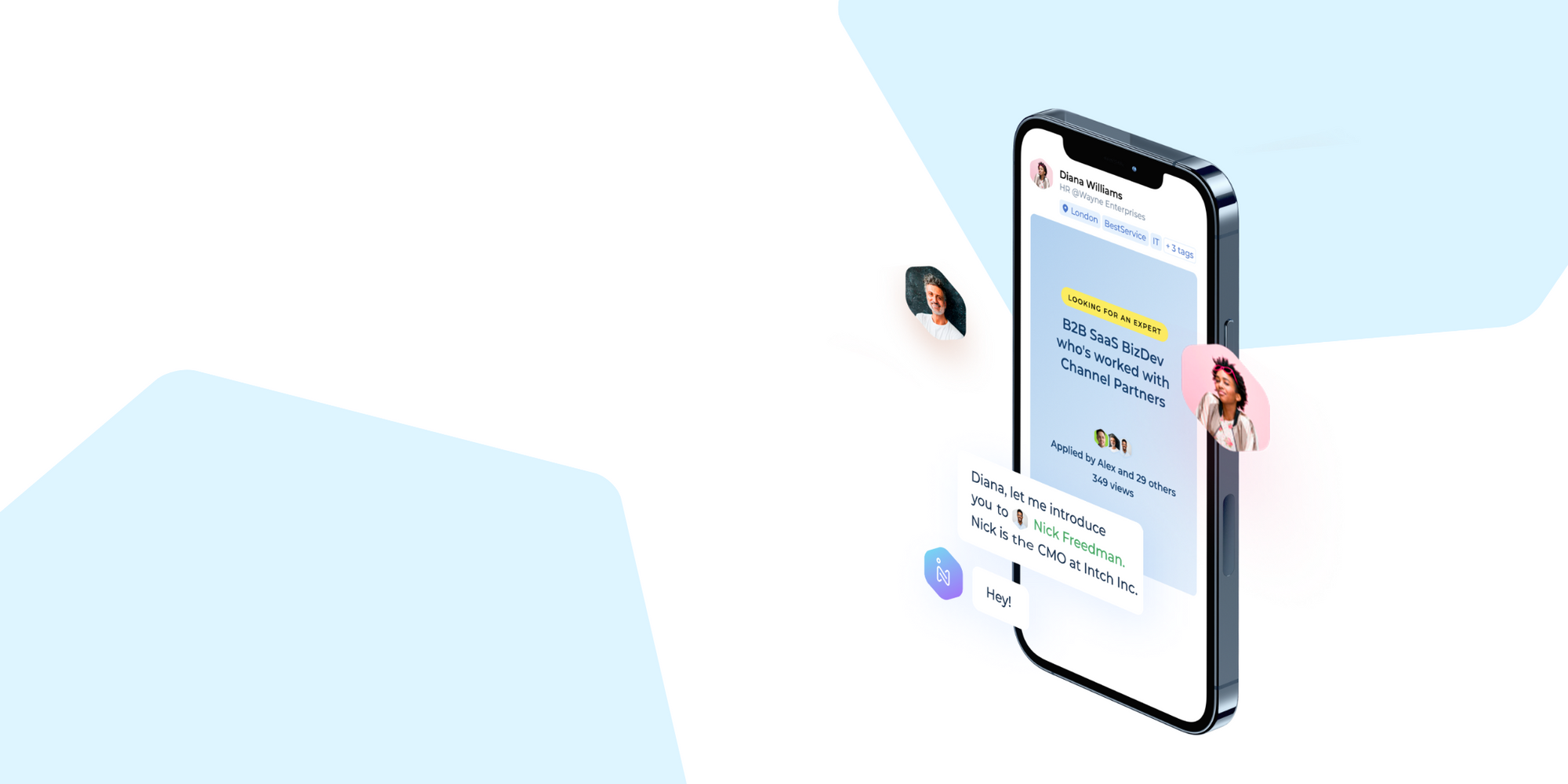 Users post requests, introduce relevant people from their networks and support each other with current requests. The idea is to get down to business, network around specific work tasks and goals, earn on warm introductions and exchange contacts, tips and favors in a professional context. It's social capital put to practical use in an AI algorithm based app.
Pros
User-friendly interface with easy-to-use templates
Free, plus an earning scheme
Professional favors built-in algorithm
Cons
Moderation to approve users, requests and posts
Social capital can be completed to grasp at first for novices
No mass contacting or spamming tolerated
Why Online Platforms Are Essential for Business Networking
A list of the best online networking platforms has been given in the previous section. However, some people might have second thoughts on using these platforms.
Popular networking platforms are utilized for other purposes. Facebook, Twitter, and even LinkedIn are now used to post videos and other content online. It is more difficult to connect with people on these platforms.
However, you cannot slacken on creating business relationships. These relationships can change your career in a short time and online platforms help you create connections.
Here are a few reasons why online platforms are essential for business networking.
With online platforms, you don't need to travel out of the country to connect with people from other countries.
Online platforms make it possible for you to establish yourself as an authority in your industry.
You can find a community of people within your industry that you can connect with.
Relationships developed from online networking can be sources of referrals.
It is very easy to find jobs on many of these online networking platforms. When you find these jobs, don't scramble to draft a working résumé—you need to be prepared to apply for them as soon as possible. And you need to apply in as many jobs as possible even if that means spending a lot of time.
However, registering to automation platforms such as LoopCV can make sure that not just your résumé is specifically tailored to the job, but also that you can apply to as many jobs as you wish.
All you have to do is to prepare for the interview. With LoopCV, you can prepare an interview-worthy résumé used to find jobs on any online networking platform.
Originally published Dec 14 2021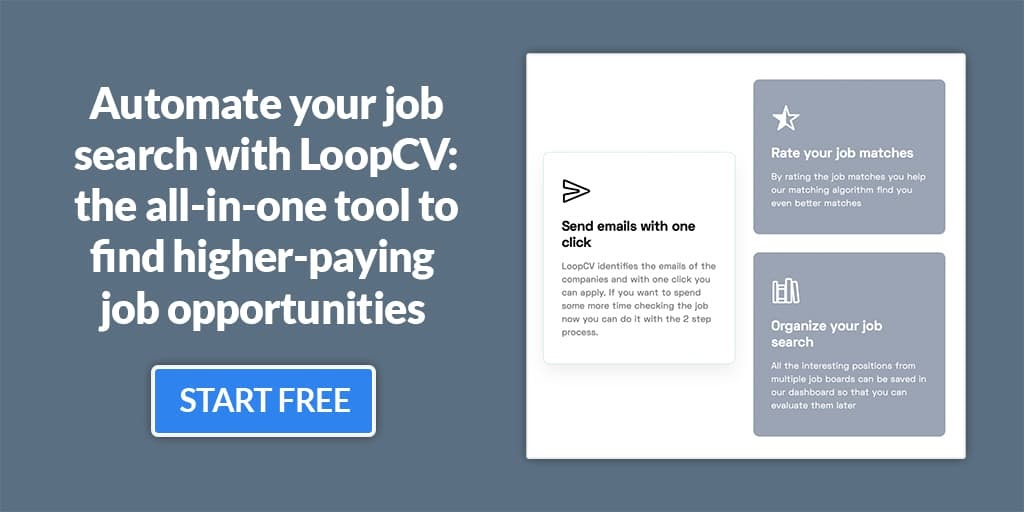 Frequently Asked Questions
What are online networking platforms?
Online networking platforms are platforms where you can find people in your niche and build relationships with them.
Which platform is best for business networking?
The best platform for networking is LinkedIn.
What is replacing LinkedIn?
Xing is the new online networking platform that is replacing LinkedIn.
What is a business networking platform?
A business networking platform is an online networking platform that focuses on meeting and building relationships with people strictly for business purposes.