How to automate the job application process
When you are on a job search process, it can be stressful and time-consuming. But it doesn't have to be this way always. By following the following steps, you can automate the process of applying for jobs and increase your chances of getting an interview!
You can make your life easier by making the job application process more personalized and quicker, or use an automated job search platform like Loopcv!
» FREE TRIAL: Get Started with LoopCV & Send Out 100s of Highly-Targeted Job Applications in <10 Minutes
Spend some time on your resume and cover letter.
You've already started the job application process by filling out an online application. Now it's time to take your resume and cover letter to the next level, which will make you stand out from the rest of applicants.
Resumes and cover letters are important because they provide employers with more information about you than what is provided in the job description. They are also used by managers when prioritizing candidates to interview for positions, so spending some time on them can help get you noticed by hiring managers who may not have read your application yet.
It's important that both your resume and cover letter are formatted properly and contain accurate information that highlights all of your relevant skills, experience, accomplishments and education history. No matter how impressive or unimpressive, these might be!
Make a list of job sites and other sources of leads.
The first step in automating the job application process is to make a list of all the places you can find jobs. This includes:
Social media (Facebook, Twitter, Instagram)
Recruiters and headhunters that find opportunities for you.
Friends and family members who may have connections at companies you want to work for.
Once you have this list in front of you, it's time to start searching for jobs on a daily basis.
For example: If I wanted to work on Wall Street at Goldman Sachs or Morgan Stanley next year, I'd start by checking those companies' websites every day for new openings. I'd also look for articles about their hiring practices online.
Identify what you want to do and where you want to work.
The second step in the job application process is identifying what you want to do and where you want to work.
This may seem obvious, but it's important because the more specific your goal, the easier it will be for your future employer to find you. If I told my boss that I wanted a promotion and then sent out resumes for jobs at other companies, he/she might not see me as qualified.
But if I told him/her that one day I wanted to be an advertising executive at our company, he/she would have an easier time finding opportunities for me within his/her department.
For what type of jobs to look for?
Search for jobs that are a good fit for you.
Use job sites to search for jobs and apply directly through them.
Use job boards to search for jobs and apply directly through them.
Use social media to find jobs and apply directly through them (e.g., Twitter, LinkedIn, Facebook).
If you're interested in working at a specific company or industry, use your network to find out if anyone knows someone who works there or knows about openings there (or both).
This can be done informally by asking friends or family members what they know about companies in the industry where you want to work and by using LinkedIn's "Who's Viewed Your Profile" feature as well as its Advanced People Search feature. So that it shows how many other people from your network also know someone who works at a particular company or has worked there recently.
Study the job posting carefully.
Before you even get started, make sure you've done your research. Read the job description carefully and look for keywords that match your experience. Then take a look at the required skills, education and experience listed in the posting. This should give you an idea of what this job entails so that when it comes time to write about yourself in an application letter or cover letter, there won't be any surprises.
You should also read a company's mission statement, as well as its values and culture and make sure they align with yours!
Finally, take some time to Google the company's reputation among employees and customers (including both current ones and former ones). This will give you insight into what kind of working environment awaits those who are hired by this organization. If others have had positive experiences working there, then chances are good that it will be worth applying for this position too!
How to tailor your resume?
Tailor your resume to each job posting instead of using a generic one.
Make sure the resume is in the format required by the job posting. Some companies require resumes to be submitted online through an application form, whereas others may ask for them via email or even over the phone. It's important that you follow their instructions carefully so that your resume doesn't get overlooked because of formatting issues.
In addition, it's crucial that you highlight your relevant experience and skills when writing about yourself on paper or online.
You can more on this topic here!
Spend some time on your cover letter, too.
As you're writing your cover letter, keep the following in mind:
It's tempting to include every detail of your experience and qualifications, but resist that urge. Don't list every job or internship you've had over the past ten years. Focus on highlighting only the most relevant experience.
Include details about your skills and knowledge.
Don't just say, "I'm great at Excel." Tell them why they should believe you! Do you have an advanced certification? Can you explain how the latest version of Excel differs from its predecessors? Most importantly, show that these skills will benefit their company specifically by demonstrating how they align with its needs and goals (as well as any specific position openings).
Show familiarity with their company and its products/services.
This can be accomplished through simple things like referencing a specific feature in a product description when writing about how it relates to your experience or listing some relevant statistics about their industry on LinkedIn (e.g., market size).
If there's any connection between yourself or someone else close to you, a friend who works there now, mentioning this could also help differentiate yourself from other applicants who aren't aware of these connections, prior application deadlines roll around.
Check each application before you submit it.
Once you've copied and pasted your information into the application, check it over carefully. Make sure that:
Spelling is correct.
Grammar is proper (or at least understandable).
Formatting is consistent with what's expected in the job posting (if there's any formatting required).
Links work (if they're provided by the employer).
Automate your job application with Loopcv.
This is the service that automates your job search, and the one I am recommending. Why? Because, it is the ultimate way to find a job, so much faster and so much easier!
If you still feel a bit lost with the automation, check out our article here!
Loopcv is exactly your solution. You don't need to worry about anything that you have to do. Let the Loopcv job bot to do it!
Here's the way to find a job through a bot which will apply for jobs on your behalf:
Create your profile and upload your CV. Provide Loopcv with your CV and the personal details required by job applications.
Select your desired job titles, locations and many other optional settings. Give Loopcv the requirements of the jobs you're applying for, e.g., what industry or company you want to work in.
LoopCV will search for jobs and either apply on your behalf or give you total control of your applications. Tell Loopcv where to search for jobs that meet these requirements, e.g., LinkedIn. Loopcv will then automatically apply to all jobs that match your criteria.
Follow these very simple steps to find a job fast and effective. Everything is automated! Just be aware of what kind of job you are looking for!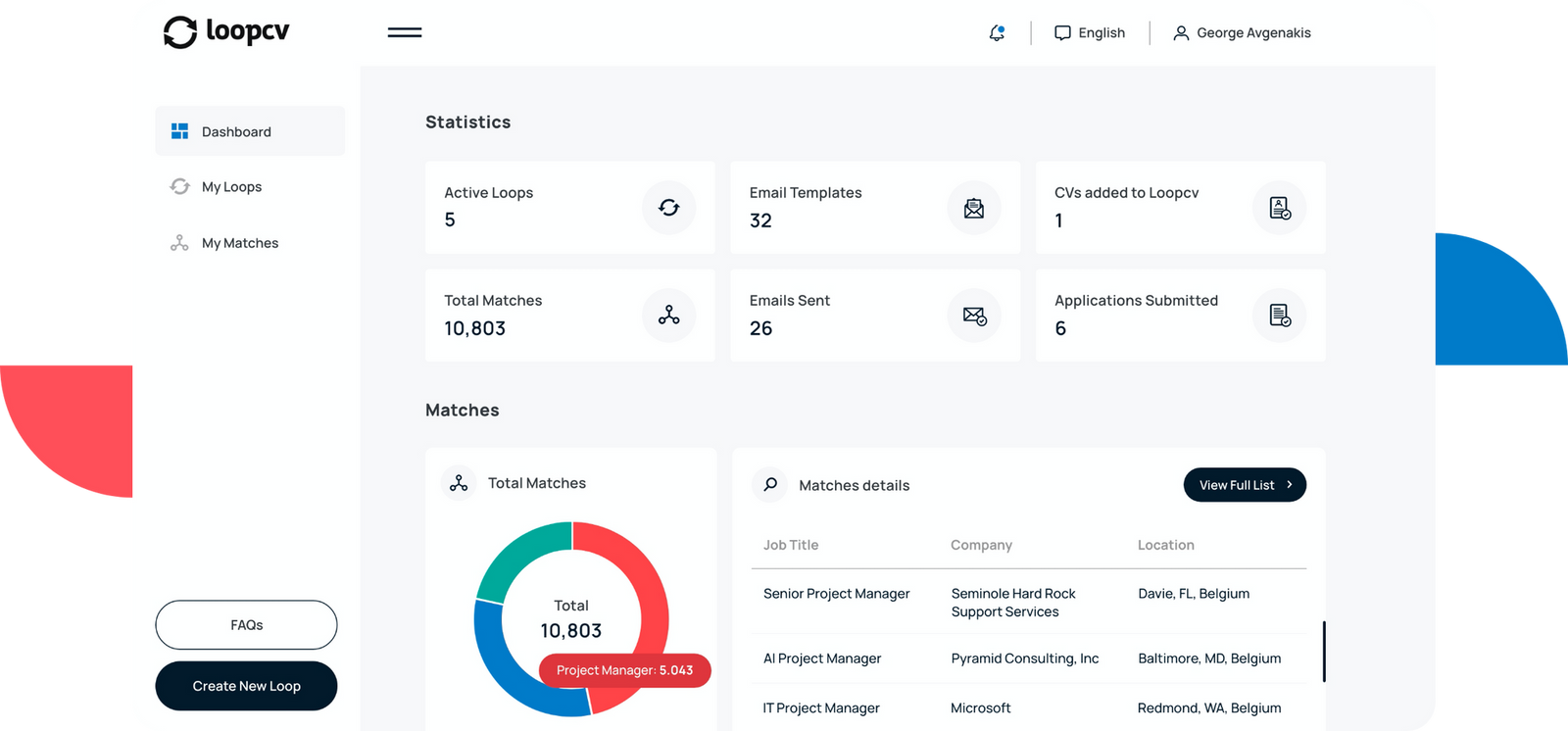 Try out what technology has to give you!
» FREE TRIAL: Get Started with LoopCV & Send Out 100s of Highly-Targeted Job Applications in <10 Minutes
Overall, as a conclusion!
This is why I'm telling you all these: Automation is not only, about bots making all the steps, and you just sit back waiting for a job to land. There are solutions to this, like Loopcv, but your efforts are still needed!
Following the job application instructions can help land better opportunities than if they weren't followed. For example: If a hiring manager asks for two references in their application instructions, but only provides space for one reference, then not providing those two references would mean no chance at getting that job offer...
Additionally, if a hiring manager asks for three years of experience, but all the jobs on their website require five years of experience, filling out their application form with "3 years" means less likely chance at getting hired there (unless maybe it was an entry level position)...
Finally, it's quite important to optimize with the tips I gave to you above, your resume and your cover letter. My advice is to prepare three or even four to five different one of them in order to be as personalized as possible. And save time by creating them at the time you are applying.
Good luck on your job search and remember, it's a process. You will make mistakes along the way, but if you stay focused on your goals and keep working hard, they will eventually pay off!