If you are a multitasker, and a busy person like me, then maybe you like to automate as much as possible. That's why when it comes to job hunting, I turn to a bot that automatically searches the web for jobs that match my skillset and sends them my resume on my behalf.
It also generates cover letters, keeps track of which emails have been sent, and let me know when a company gets back in touch. All without me lifting a finger!
Do you want to know how is this possible? Stay until the end of this article.
» FREE TRIAL: Get Started with LoopCV & Send Out 100s of Highly-Targeted Job Applications in <10 Minutes
---
Table of contents:
---
How do you automate a job search with a job bot?
You can use a service that automates your job search, like the one I am proposing below. It will select jobs from online job boards and apply for them on your behalf. You can also use it to find positions that aren't advertised publicly on job boards, such as those posted on corporate websites.
If you're looking for jobs in a specific industry, you could configure the bot to only look at companies that are hiring people in that field.
For example, if you're seeking for an engineering position at a startup company, but don't want to spend time applying for other types of jobs (like retail or food service), simply tell the bot which companies are acceptable and which aren't: "Only send me positions from startups." Once this is done, it will automatically filter out any non-startup positions from its search results, so they won't slow down your application process later on!
With all these extra hours saved up during the day (or night), what will you do with yourself? Why not take some time to develop your skills and also expand your network!
How to work with a bot for job applications?
You don't have to do anything other than telling it where you are and what kind of job you want. After that, the bot will automatically search through the hundreds or thousands of available jobs in your area, looking for matches based on your preferences. You can also choose which skills to highlight, and how to describe yourself.
How does the bot make the automations?
The bot creates an email listing your skills and writes why you'd be a good fit for the job. It then sends that email to employers on your behalf.
The first step is for the bot to analyze your resume, looking for keywords that match what you've told it about yourself. Based on those keywords, it creates a template for an introductory email (or two or three) outlining why you're interested in the company and how your skills would make you an asset to their team.
It then does something pretty cool: It keeps track of which emails have been sent so far, so you don't accidentally send the same one twice!
So if you want some help getting hired at a new job, just tell the job bot what kind of work environment would appeal most to your personality type by answering some questions about yourself and then let it handle all those annoying little details like finding companies looking for someone with exactly what they need and sending them an appropriate cover letter via email!
A bot applying for jobs on my behalf.
The bot is able to create a custom email listing of your skills, experience and why you'd be a good fit for the job. It then sends this email directly to employers on your behalf.
Just an example:
Hello,
I am applying for [position] at [company name]. I think I would be an excellent candidate because of my [skill], which as I checked on your job position is a very valuable asset for a possible employee to have!
I believe my profile is suitable for your job position so, attached, you can find my CV and my cover letter.
Have a great day!
Bonus job bot features!
The bot also keeps track of which emails it has sent, and when, so that you don't accidentally email the same company twice.
Since this is a computer program, there's no way for it to know whether an email address still works or not. It could be outdated or even expired by now. That said, if you want to ensure that you're only contacting people at companies who still have jobs available, manually check their websites before sending out your application.
How can Loopcv Apply for jobs on my behalf?
Yes, this is the point where I wanted to end up to. This is the service that automates your job search, and the one I am recommending. You might still feel a bit lost when it comes to this process of automation about your job hunting.
But, the good news is that we have found the way towards automation of job applications! Loopcv is exactly your solution. You don't need to worry about anything that you have to do. Let the Loopcv job bot to do it!
Here's the way to find a job through a bot which will apply for jobs on your behalf:
Create your profile and upload your CV. Provide Loopcv with your CV and the personal details required by job applications.
Select your desired job titles, locations and many other optional settings. Give Loopcv the requirements of the jobs you're applying for, e.g., what industry or company you want to work in.
LoopCV will search for jobs and either apply on your behalf or give you total control of your applications. Tell Loopcv where to search for jobs that meet these requirements, e.g., LinkedIn. Loopcv will then automatically apply to all jobs that match your criteria.
Follow these very simple steps to find a job fast and effective. Everything is automated! Just be aware of what you like.
Another useful feature, is that it can provide you with tips, tricks and advices for your job research. Its automations will make your life easier and your results much more efficient!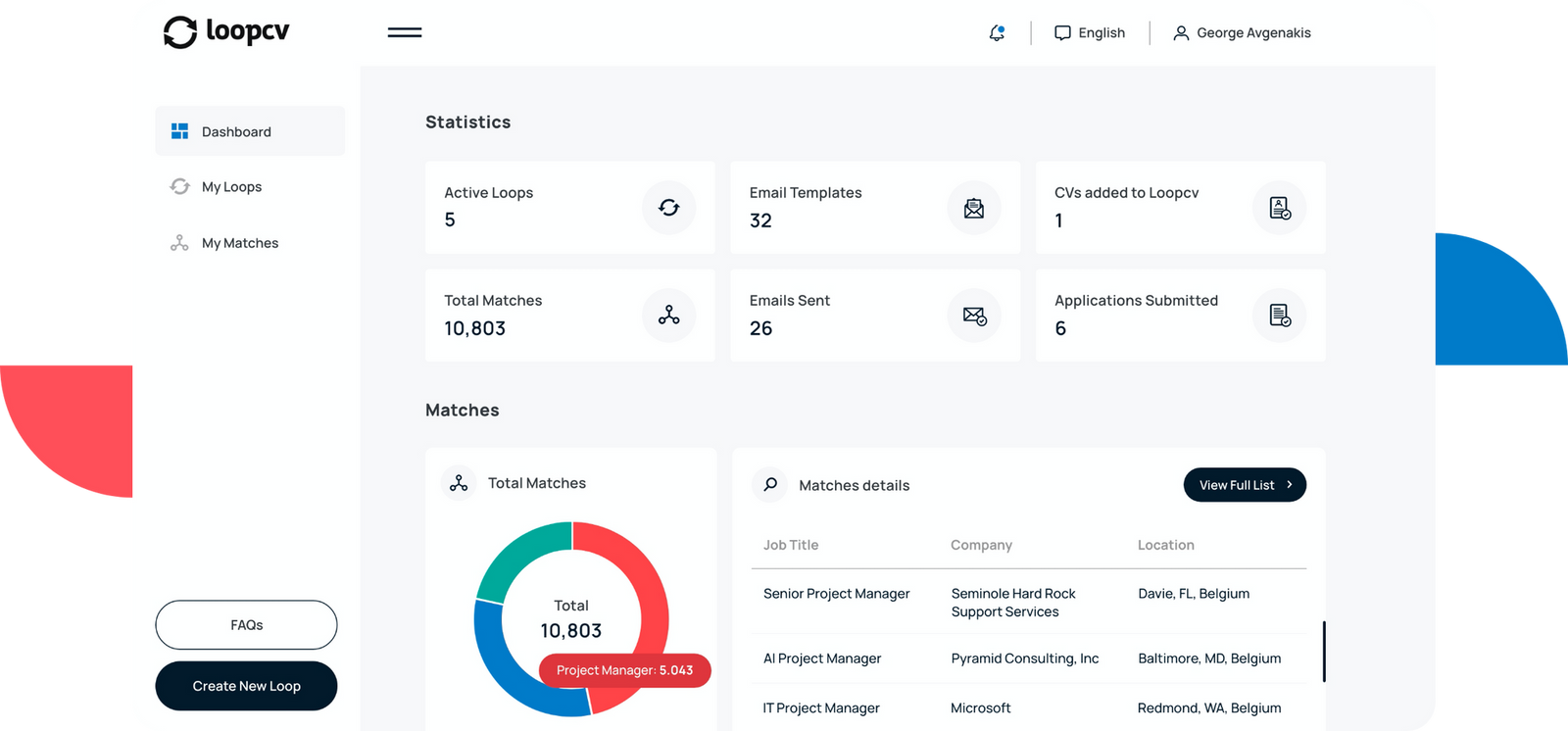 Technology can be great, right?!
» FREE TRIAL: Get Started with LoopCV & Send Out 100s of Highly-Targeted Job Applications in <10 Minutes
Automation can save you time and effort.
Automating your job search is a great way to save time, effort and money. Time is money, and saving time can lead to more money!
For example, if you spend 10 hours searching for jobs each week and applying for five of them, that's 50 hours per month spent on the same thing every month and that's only if you have all the time in the world. If you only have 30 minutes per day or just an hour or so per week after work to look for jobs, then automating saves even more time because all of those repetitive tasks are done automatically without any effort from you.
In conclusion
I hope this post has given you a sense of what it's like to automate your job search with a personal assistant job bot! While there are many tools out there that can help you find jobs and apply for them, what I've learned is that they're not all created equal.
Some have more features than others, which may make them better or worse depending on your needs. And others only work with specific platforms, like LinkedIn or Gmail. And, finally, some offer additional features such as resume editing, while others don't (yet).
But no matter which one you choose, remember that automation can save us time and effort. And in today's world of limited resources and increasing competition for good jobs, anything we can do to help ourselves stand out from the crowd will go far towards getting results!
---
If you found this article useful, you can also read the "What Really Happens to your Resume After you apply for a Job?"