5 Tips for Choosing the Right Employee Insurance Plan for Your Small Business
Generally, health insurance is one of the most common and sought-after employee benefits provided by businesses.
This is because it helps spread out the expensive healthcare costs between employers and employees, making it easier for employees to pay insurance premiums and employers to attract and retain talent.
As such, approximately 74% of civilian workers in the US have access to healthcare benefits, with nearly 57% of workers participating in the benefit.
Though it benefits the employees, offering healthcare and other employee insurance plans translates to additional expenses for employers, putting extra strain on their resources. This is especially true for small businesses.
Does that mean small businesses shouldn't offer insurance plans to their employees? But if they choose to offer these benefits, how can they choose the right insurance plan for their employees?
🔥 FREE TRIAL: Get Started with LoopCV & Send Out 100s of Highly-Targeted Job Applications in <10 Minutes
Should Small Businesses Provide Employee Insurance Plans, and How Can They Find the Right One?
While 58% of small firms offer health benefits to their employees, the Affordable Care Act (ACA) states that firms with more than 50 employees must offer them an affordable health insurance plan, wherein the employees' annual cost is not more than 9.12% of their annual income
But if you've less than 50 full-time employees or full-time equivalent employees (FTEs), you're not stipulated to offer insurance coverage.
Though this is true just for health insurance plans, small businesses do need to invest in other types of insurance plans, such as:
workers' compensation to protect employers and employees in case of workplace accidents,
unemployment insurance to safeguard employees who lose their jobs for reasons that aren't their fault, like layoffs, and
disability insurance—short-term or long-term—to somewhat match an employee's current income if they sustain a long-term illness or injury.
This raises the question: why should small businesses offer insurance plans to their employees besides legal compliance?
Pros and cons of offering insurance plans for your small business
Though small businesses must adhere to insurance requirements mandated by the law, they should also weigh the pros and cons of this employee benefit to conduct a systematic cost-benefit analysis.
The most obvious drawback of providing employee insurance plans for a small business—with less than 50 full-time employees— is the strain it'll put on their limited financial resources.
It's an unnecessary cost they don't have to incur, but offering this benefit will go a long way in helping them achieve their business goals.
Wondering how? The reasons why small businesses should provide insurance plans to their employees include:
Attracting and retaining top talent: offering an affordable insurance plan will help you attract top talent since 82% of employees consider the employee benefits package before accepting a job offer. Similarly, employees who feel valued by their employers don't switch jobs often, saving you turnover costs. This is one of the easiest ways businesses attract and retain top talent.
Gaining competitive advantage: offering a comprehensive benefits package to your employees will assist you in gaining a competitive edge over your competitors. Especially if few other small businesses in your space offer insurance plans to their employees.
Receiving tax benefits: depending on the insurance plan you offer, you can receive substantial tax benefits. For instance, if you qualify for and opt for a plan through the Small Business Health Options Program (SHOP), you could save up to 50% of the costs you incur for your employees' healthcare premiums.
Creating a healthier work environment: it's an opportunity to show that you care for your employees, fostering a healthier work environment, boosting job satisfaction, and enhancing employee loyalty. This will enhance employee productivity, leading to your business's success and growth.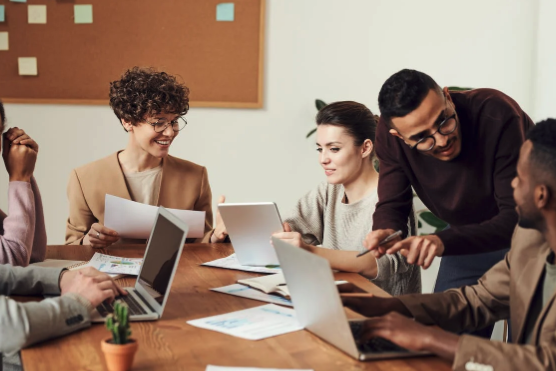 Moreover, group insurance policy terms are more favorable than individual insurance plans and often provide more coverage. So you'll be able to save more while you protect yourself, your family, and employees and their dependents' health.
If you're looking for comprehensive solutions, considering insurance software development services can also play a crucial role in streamlining the management and accessibility of these plans.
Now that you're familiar with the pros and cons of providing insurance plans, how do you choose the right one for your employees and, by extension, your business?
5 Tips small business owners can employ to choose the right employee insurance plan
Navigating the world of insurance plans is not easy and will tire you out if you don't know where to begin looking. So here are the top five tips for choosing the right employee and company insurance plan.
Identify the insurance plans you must obtain
The first step is to research and identify the insurance policies you must offer your employees and purchase for your business or its assets to comply with the legal requirements based on the industry your small business belongs to.
For instance, if you fall in the trucking industry and manage a fleet of commercial motor vehicles in the US, your vehicles must be covered as per Federal Motor Carrier Safety Administration's (FMCSA) insurance requirements.
Since the FMCSA issues motor carrier numbers only if it receives proof of public liability insurance, interstate truck operators must get this plan.
The public liability insurance covers property damage, environmental restoration, and bodily injury. So its insurance limit must be based on the transported cargo type. This means that if you transport:
non-hazardous freight weighing less than 10,001 lbs, your insurance limit must at least be $3,00,000.
freight weighing more than 10,000 lbs, your insurance cost can be anywhere between $7,50,000 to $5,000,000 based on the transported commodities.
passengers with a seating capacity of 15 or less, your insurance limit must be at least $1,500,000. Otherwise, the limit amount rises to $5,000,000.
Besides public liability insurance, trucking companies must comply with individual state legal mandates and meet the minimum requirements for shipping companies to hire them. A few insurance plans trucking companies need are as follows:
Workers compensation: covers your employees' lost income and medical bills if they sustain a work-related injury or illness.
General liability: safeguards your small business against third-party claims of injury—bodily, advertising, or property damage by covering medical costs, legal fees, and repair bills.
Commercial auto: protects the cars, trucks, and vans used for your business against theft, vandalism, collision damages, and weather damage. It covers medical expenses too.
Trailer interchange insurance: if you haul trailers you don't own, this coverage offers an extra layer of protection should you damage that trailer in transit.
Bobtail insurance: covers legal bills, medical costs, and settlement fees if you drive a semi-truck or 18-wheeler if the trailer is not fitted with the trailer vehicle.
Although these insurance plans will add to your expenses but save you from shouldering hefty business losses. This all sounds well, but how can you buy truck insurance for your small business without enduring a lot of hassles?
You simply opt for online truck insurance. Upon receiving free quotes online within minutes of your inquiry, you can review them with an experienced advisor for additional support. During your discussion, you can also get the coverage you need.
After you finalize the details, all you need to do is insure your small business by paying and downloading the certificate of insurance (COI).
This process works perfectly if you belong to the trucking industry, but if you don't, do some research, make a list, and understand the kinds of insurance plans, you'll have to purchase.
Ask your employees for their opinion
After finding out the insurance plans you need to purchase per legal requirements, it's time to confer with your employees and understand their needs.
This is a win-win since it'll help increase employee engagement and happiness while minimizing the time and effort you'll have to dedicate to the cause.
You can conduct anonymous surveys or polls or ask your employees to fill out a form. Through these means, you can understand the kind of insurance most employees desire and why. The rationale behind their choice will help you understand your employees' thought processes and take steps accordingly.
For instance, most of your employees might place more importance on mental health insurance to prevent burnout at the workplace or eye insurance to protect their eyesight than dental insurance.
Determine your budget
As a small business, you won't have a surplus of funds for non-essential business expenses like insurance plans.
So before you decide the insurance benefits you'd like to provide your employees—beyond legal requirements—you must recognize the associated costs and determine how they'll fit your budget.
You must ensure that you accurately calculate the costs associated with the insurance plans you're leaning towards. Usually, employers have to bear four types of costs while searching for and implementing an insurance plan. They are as follows:
Monetary costs: can be determined by the type of insurance you provide, your contribution to the premium amount, and number of employees you'll be covering. If you cover your employees' dependents, don't forget to factor in their costs.
Intermediary costs: if you use a broker, agent, or other third parties to find and select a suitable insurance plan, you'll have to bear intermediary fees.
Time costs: the amount of time you'll spend searching for suitable insurance plans, implementing them, educating your employees about them, and maintaining them yearly for open enrollment.
Administrative costs: implementing and managing insurance plans year-on-year will add to your team's administrative workload. While you can outsource this to a professional, it'll cost you extra.
A combination of these costs will determine the effect insurance plans will have on your fiscal budget and decide if you can offer additional insurance benefits to your employees. The cherry on top? It'll necessitate you to optimize your budget.
Check out your competitor's offerings
If your budget does, in fact, allow you to provide your employees additional benefits, then in addition to your employees' suggestions, it's a good practice to check out your competitor's insurance plans.
This will aid you in understanding what your competitors are offering and why they're attractive to potential and current employees. All you've to do is check out their website to jot down all the pertinent details.
Now, see if you can create an insurance plan that rivals your competitors. This will allow you to stand out from them and make your company a more lucrative option for future and current employees.
Compare all your options
It's time to enter the insurance market and shop for the plan you need. This might be the last stage, but it's the most important one since this is the step where you can save on expenses and compare the coverage options before deciding on the one that fits your bill.
You can get individual quotes from the top insurance providers. However, if that seems like a lot of work and requires time you can't spare, consider engaging a professional insurance broker or agent.
Brokers and agents can understand and communicate your needs with the insurance providers. They can also negotiate for premium amounts and coverage on your behalf to get you the best deals.
Since they will cost you extra, hire them only if you can fit them into your budget. You wouldn't want to go overboard or draw funds from other departments to pay for their services.
But if your budget permits and you do end up hiring a broker, ensure that you compare all the quotes before you curate an insurance plan that's best for your employees and business.
🔥 FREE TRIAL: Get Started with LoopCV & Send Out 100s of Highly-Targeted Job Applications in <10 Minutes
Pick the right insurance plan for your employees and business to improve your bottom line
Selecting the insurance plan that fits your business needs and makes your employees happy will positively impact your bottom line.
It'll make your employees more productive, reduce employee turnover, and save you from hefty fines—for non-compliance with legal requirements—medical costs, repair bills, and legal fees.
But you can't blindly purchase or implement any insurance plan. You must comply with the mandatory plans and spring for the additional ones only if your budget approves.
Follow the tips listed above to find the right employee and company insurance to cut down on time costs and save on monetary, intermediary, and administrative costs.
---
Author Bio: Arjun Ruparelia
Email - ruparelia.arjun@gmail.com
An accountant turned writer, Arjun writes financial blog posts and research reports for clients across the globe. Arjun has five years of financial writing experience across verticals. He is a CMA and CA (Intermediate) by qualification.