Top Reasons Why A Tech Career Is Good For You
Technology is ever-evolving, and if you want to work in the tech industry, you have to gain valuable skills and experience that will help you in your future career goals. For several years, the tech industry has been the talk of the town, and it is undeniably here to stay and continue to grow.
» FREE TRIAL: Get Started with LoopCV & Send Out 100s of Highly-Targeted Job Applications in <10 Minutes
Working in a technology-related field is beneficial for your career and your personal growth. It's a fast-paced environment that offers a lot of challenges to your mind and creativity. There are different jobs in the tech industry, and each one of them is unique and interesting. According to Statista, the technology and telecommunications industry is rapidly evolving as innovation and growth accelerate, and technology devices and infrastructures become smarter.
As the technology industry expands, job opportunities will not only increase, but also skyrocket. There are compelling reasons to consider a career in technology, as the industry offers a wide range of job opportunities, such as software engineer, web design, data science, and more. The tech industry has become a very lucrative industry with high-paying tech jobs. In this article, we discuss numerous reasons why you should consider a career in the tech industry.
Reasons Why You Should Consider A Career In Tech
High-Paying Jobs
Due to the continued growth in the tech industry, the demand for people with technical skills is increasing, resulting in high salaries and pay-checks. This is important to many people in the job market because tech jobs are growing rapidly in the United States.
One of the main reasons you should consider a career in tech is the high pay. Even in an incredibly competitive job market, there are a wide variety of high-paying jobs for tech professionals.
An Environment of Constant Learning
The tech industry is constantly evolving which means those in the tech industry always keep an eye out for new trends and practices. A career in tech means that you will constantly be gaining new knowledge, skills, and insight into your work.
Some of these skills you can gain from attending some bootcamps like Thinkful, General Assembly, Coding Dojo, Springboard, and Αpp Academy to ensure you stay up to date on trends and changes.
An Opportunity to Work In A Culture-Oriented Place
Employers in tech industries often have a strong focus on culture. This includes the values, policies, and ethics that underlie an organization. In a culture-oriented organization, employees will have the opportunity to learn more about the values that come with their organization.
The companies in the tech industry are known for promoting culture and offering various excellent perks in their respective workspaces. Most companies in the tech industry prioritize their employees and have a really good culture, take for example companies like Microsoft.
Excellent Work Environment
The tech industry is an innovative industry which means the people who work in this industry embody the same outlook and characteristics. This affects the work environment because of the innovative, growth-oriented, and optimistic nature of the industry.
Therefore, working in technology will provide you with a positive and growth-oriented work environment. An excellent work environment, especially one that promotes creativity, will lead to higher retention rates, better employee engagement, and higher performance.
Numerous Job Opportunities
One of the best reasons to get into tech is the number of job opportunities  in different cities, for example, you could find plenty of jobs in London. These job openings include entry-level positions, mid-level positions, and management positions. With the need for qualified tech employees as high as ever, you're sure to be able to find a job in no time.
Since the tech industry is vast and expanding, you have a plethora of tech jobs to choose from. To break into technology, you do not need to be a programmer, developer, or even have coding skills.
Numerous Job Perks
Employee perks are an important aspect of the job and a tech career has various perks. As a tech professional, you'll enjoy a job that is packed with perks. Many companies offer healthcare benefits, even paid time off, a variety of educational and networking opportunities, free food, an on-site gym, casual attire, on-site recreational centers, and wellness programs, to mention a few.
Many tech companies also offer generous health insurance coverage, and some even subsidize the cost of your prescription medications.
Work-Life Balance and Flexibility
While most people value good pay, it isn't enough to be well compensated and receive numerous job perks. Another significant benefit of working in the tech industry is the work-life balance that is available, as well as job flexibility.
Tech professionals have the opportunity to have a work-life balance that's not necessarily present in other industries. You don't have to be at the office from 9 am to 5 pm every day if you don't want to be. Many tech companies offer flexible work hours in order for their employees to be able to work from home or some other location.
A Sector Filled With Creativity
If you are creative or enjoy working in an environment that stimulates your creative side, a tech career is ideal for you because the industry is built on innovation, and innovation is largely fuelled by creativity.
You'll have the opportunity to use your creativity to solve problems as well as invent new solutions. This will allow you to channel your creative energy and tap into your potential as a creative person. You'll also have the opportunity to work with creative people and make use of your creative strengths in your day-to-day work.
The Tech Industry Isn't Going Anywhere
You might be wondering if the tech industry is going to be around in the future. The answer is yes. According to experts, the demand for tech professionals will increase in the next few years. This means that more job openings will open up in the tech industry in the future.
Technology is present in all aspects of our lives, and different companies require it. This increases the demand for technical skills, and pursuing a career in tech is a wise decision because, while other industries may fade away over time, the tech industry continues to thrive.
Should I Choose A Career In Tech
A tech career is a smart choice due to the reasons mentioned above, especially due to the increase in demand for those with technical skills. Most jobs in tech also do not need a degree but the necessary skills which you can learn and gain from books, trade schools, online courses, and coding bootcamp.
Looking for a way to automate your job search?
Check Loopcv!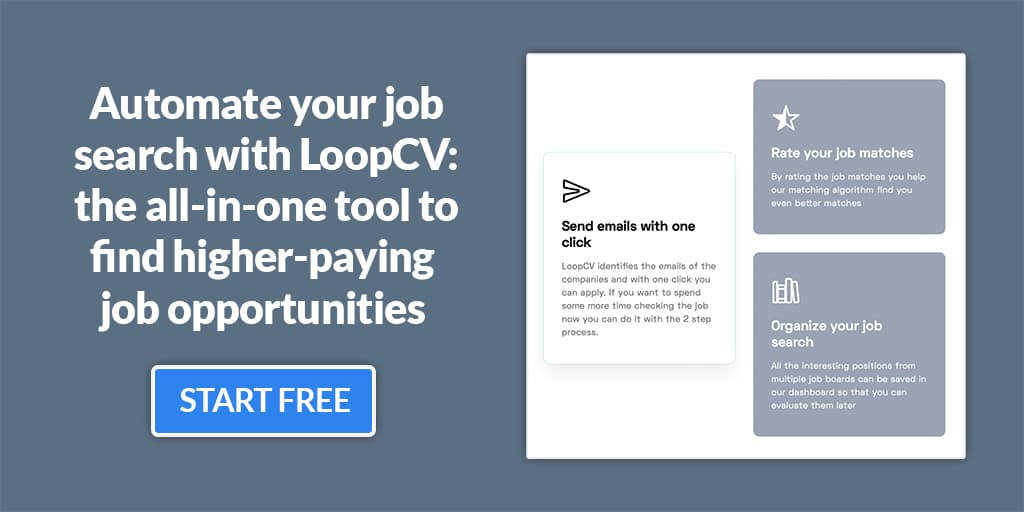 » FREE TRIAL: Get Started with LoopCV & Send Out 100s of Highly-Targeted Job Applications in <10 Minutes