The Ultimate Google Sheets Job Application Tracker Template
In today's job market, it's not unusual to apply for many positions. When you start a new job search, keeping track of all the potential job positions can be exhausting.
You may think that this process demands lots of time.
Indeed. There're many steps during the application process for each position.
It's important to be organized, track all of your job applications, know the status of each of them, when to follow up, and everything you need at every step of the procedure.
Properly organizing and managing your job search is as important as identifying job opportunities. Hiring a personal assistant would be costly.
But what about a free Job Application Tracker Spreadsheet?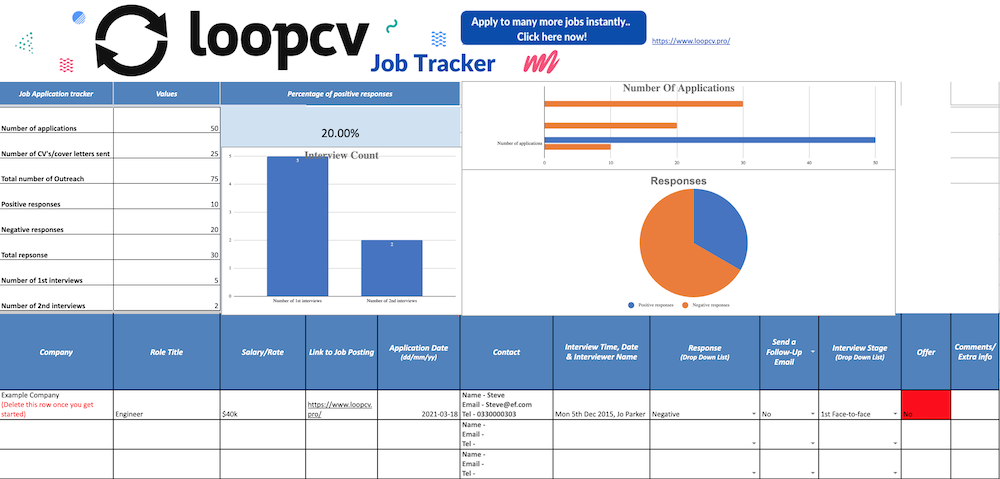 A simple and effective excel template would solve many of the problems you may face during your job search.
LoopCV created a formula to help you keep your search organized.
Keep track of your job applications with the template below:
With this job application tracker excel template, you avoid missing crucial application deadlines, garbling companies and positions, confusing interview times, or forgetting to follow up. The template was created via Google sheets and it has columns to document:
Job you applied to
Company name
Role title
Salary/ rate
Link to the job posting
Application date
Contact name
Response
Interview stage
Interview time and date
Interviewer name, and
Offer
Download your own copy and get started tracking your job search with this customizable and easy-to-use spreadsheet. Ready to start tracking?
To download your copy and get started, click File > Download as > file type you'd like, or make a copy in Google Sheets by clicking File > Make a copy.

If you make a copy and save it to your own Google Drive, you will have the ability to edit/ change as much as you wish without needing request editing access.
Now you are ready to use our job tracker, insert the roles you are interested in and watch your results through our interactive chart system.
Here's how to use the spreadsheet:
1) Look for jobs where you could imagine yourself growing into.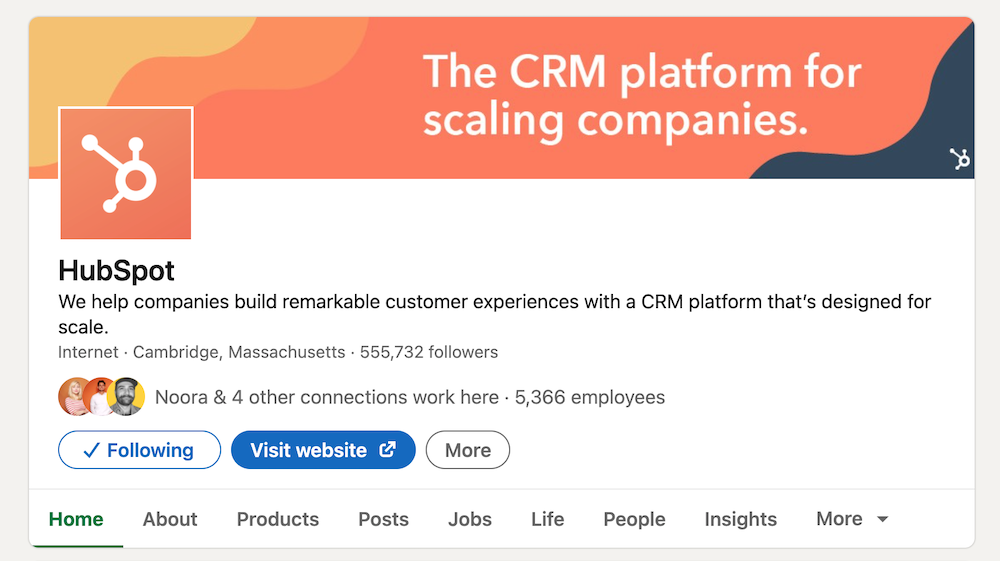 Before you apply, browse company offices to explore a bit of their workplace culture.
The work environment is pretty important, and by investigating the social media presence of a company, you could make sure if you'd like to work there.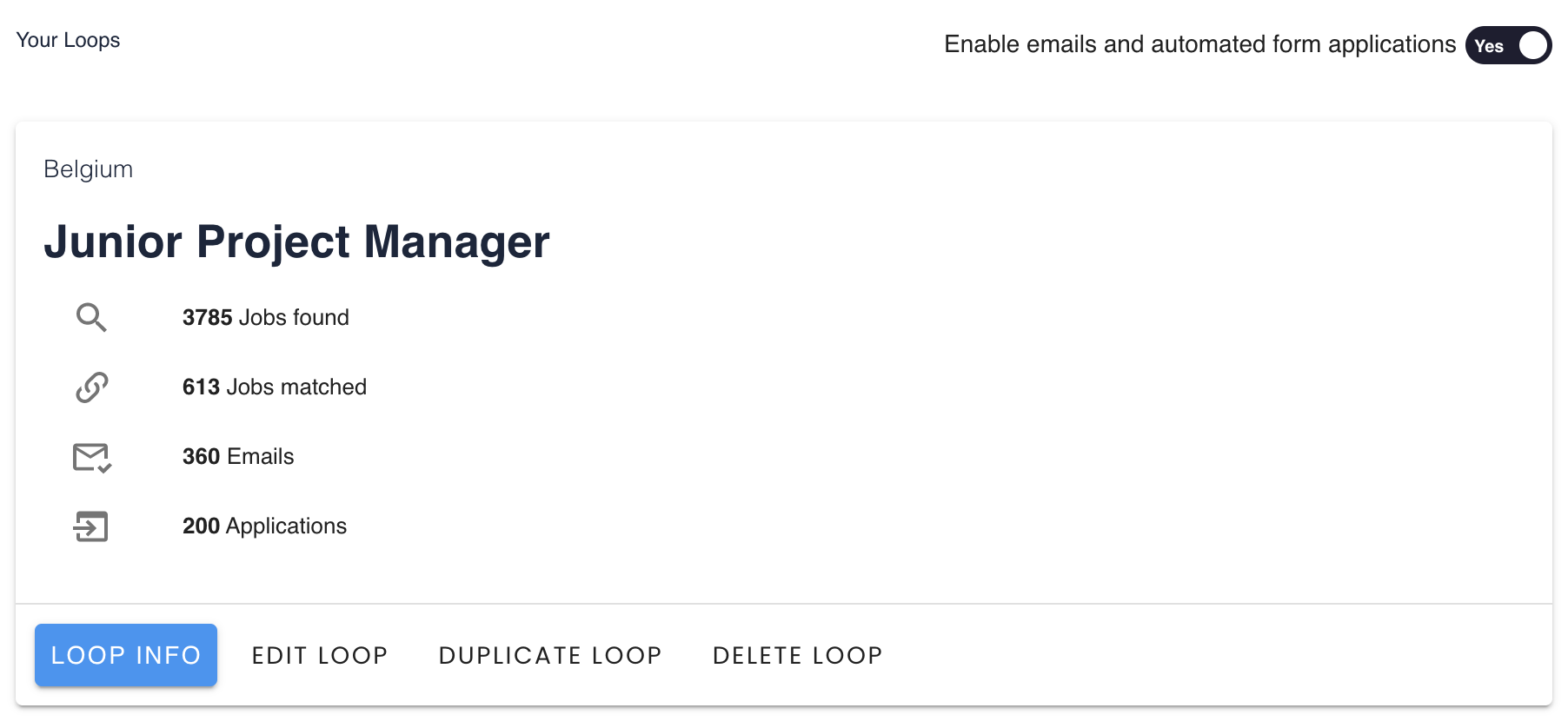 Take advantage of job search tools that collect new job postings every day, and search for jobs in your desired location/ role/ salary, etc.

When you see there's a good match, add it to a row under the columns "Company" (company name), "Role Title" (the name of the job position), "Salary/Rate" (the expected salary) and "Link To Job Posting" (the URL link for easy access).

Write the job title precisely as it's written in the job description.
This will help you when the hiring manager calls you to arrange an interview.
The "Link To Job Posting" column will be needed before you have your interview. You'll want to refer back to the job description and search for the information.
3) Apply for the position or let the experts do it on your behalf!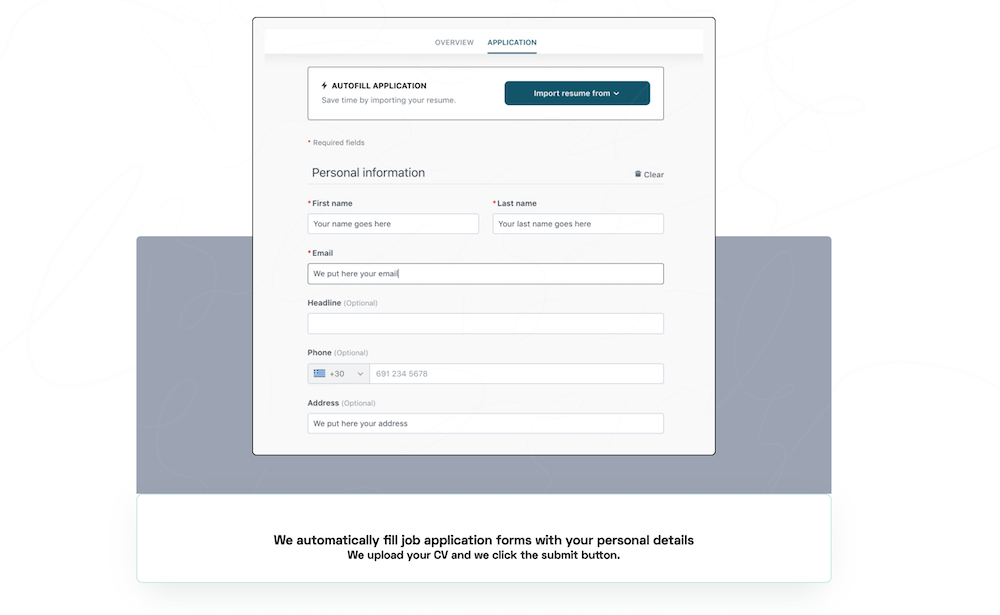 Attach a well-written resume and cover letter.

Once you did that, fill in the date under the "Application Date" column.
This information will help you estimate when it's the right time to send a follow-up email in case you haven't heard back from the hiring manager.
4) If you get called back for a job interview, congrats!
Add the information you're given under the "Contact" column. The name of the person who contacted is needed in case you want to write them a thank you note.

Check the interview stage under the "Interview stage" column, and add the time and the date of the interview under the "Interview Time, Date" column.
This way, you ensure that you don't miss anything important.
Now better prepare. Practice answering some common interview questions and research into the company to know more details about them.
Having an idea of the culture, the mission, or even the vision of the company you're preparing for will help you write down some questions to ask at the end of the interview.
5) Conduct the interview! You've got this!

After your meeting is over, make sure to be prepared for the final answer, and don't be afraid to follow up if you don't hear back about the next steps after a couple of weeks.
Once this is done, check the response under the "Response" column using the drop-down list and note the offer under the "Offer" column.
---
The above steps concern all the rounds of an interview. Repeat them for every round and jot down every single piece of information you need to know.
During your application and interview process, you can add notes to the Job Application Tracker to follow the statistics of the responses.
The diagrams represent the number of 1st and 2nd interviews and the percentage of positive and negative responses.
This is undeniably one of the most valuable tools of any job seeker.

You can either use it as it is or customize it, changing each task's name or adding extra columns for other steps of the process.
It's up to you how detailed you want to get.
Color it in order to quickly visualize things, change the diagram form, use conditional formatting, and put your own style.
Choose to have jobs sorted by application date or status.
There's no right or wrong way to use the spreadsheet.
Format it in the ways that serve best for you. Τhis spreadsheet will put all of the information you need in one place, organized to offer you quick and easy access.
The job interview tracker serves as a reference document that you can refer to any time you need it. And, of course, being organized can help lower stress levels during the pressured period of job searching.
Originally published 13 Apr 2021
Frequently asked questions

How do I organize my job search spreadsheet?
A spreadsheet should include: Company name, Position applied to (the role as it is written in the job description), Link to job posting, Application Date, Salary/ rate, Name of the person who contacted you, Interview time & date, Status of your interview, and Response (negative or positive).
How do I create a tracking sheet in Excel?
If you're familiar with Microsoft Excel, creating a tracking sheet is a simple and effective way to keep track of your job applications. The first step is to create a table with below columns: Company Name, Link to Job Posting, Contact, Email, Date Applied, Interview Stage, Role, Salary/ Rate, Response, Offer. Type these headings to each column, select them and press CTRL + T to create a table. Set up data validation rules. Highlight what matters with conditional formatting. Start note the information you get from the job search process.
How do you keep track of job applications?
During the job application process, you might end up applying for dozens of jobs. A spreadsheet puts all of the information you need in one place for quick and easy access. It allows you to keep track of everything you're doing.
Can I create a job application tracker in Google Sheets?
You can create a job or interview application spreadsheet with Google Sheets using our template. If you're familiar with MS Excel, it is very easy to do it. You can use a spreadsheet to keep track of which companies you applied to, when you submitted your application, what materials you submitted, and other important factors.