Best Way to Find and Hire Top SaaS Developers
The best way to find and hire top SaaS developers is to use a bit of creativity. You can find many great developers by searching online job boards, but the best ones are usually not actively looking for work.
To attract them, you need to get creative and reach out to them directly. Once you have their attention, you can then assess their skills and experience to see if they're a good fit for your project. Keep reading to learn how to do this effectively.
🔥 FREE TRIAL: Get Started with LoopCV & Send Out 100s of Highly-Targeted Job Applications in <10 Minutes
Define your requirements - what specific skills and experience do you need from a developer?
SaaS experts for hire are in high demand. To make sure that your project or software is successful, it's essential to define the exact requirements you need from a SaaS developer. This might involve experience with specific software, technical programming skill sets, product knowledge, and the ability to interpret customer requests.
Furthermore, there needs to be an understanding of SaaS security protocols and knowing how to properly set these up on various operating systems.
With SaaS becoming increasingly more common, having an experienced SaaS developer on board can ensure a smooth deployment process as well as put you in a prime position for expanding into various markets.
Use online resources to find developers who match your criteria - consider using freelancer websites or job boards
Finding the right developer for a job can be a significant challenge. To make the process simpler and faster, it's worth considering using online resources such as freelancer websites or job boards.
With these types of services, you can easily filter and sort through potential developers who match your criteria based on their skills, experience, and even budget requirements - something that would be almost impossible to do in the traditional recruitment process.
Furthermore, many of these online services offer user reviews and ratings to help narrow down the list of options even further. By utilizing online resources for finding developers, you can drastically reduce the time spent searching for the perfect candidate and potentially save money in the process.
Vet the developers you're interested in - check their portfolios, read reviews, and ask for references
When looking for a developer to work on your project, it's important to vet them properly. A great way to begin is by checking their portfolio.
This can give you insight into their style and the types of projects they have completed in the past. Reviews can also be useful; reading what other clients have said about their services gives you a better sense of how dependable this particular developer is likely to be.
Finally, don't forget to ask for references from prior customers, who may be able to provide greater detail on their experience working with the developer. Doing your due diligence before hiring a developer is a worthwhile effort; it will ensure you end up with a partner who possesses the qualities best suited for your project.
Make sure you're on the same page before hiring anyone - discuss your project in detail and set expectations
Hiring someone new is always a difficult decision. It's important to ensure that you and the potential hire are both on the same page before moving forward with any commitments.
To do this, it's essential that you discuss your project in detail and set an understanding of expectations. Talk through important details such as delivery timeline, budget, expectations for communication, daily tasks and responsibilities, and more to ensure everyone is on the same page from the start.
Having these things settled up front will save a lot of stress down the road and set you up to successfully meet your business goals.
source: workable.com
Once you've found the right developer, agree on a price and timeline for the project
Once you've identified a developer who not only can meet your expectations in terms of the technical requirements for the project but also whose attitudes and expertise are a good fit for your team, it is time to discuss the financial and time commitments that each side is willing to make.
Agreeing on a price and timeline for the project allows both parties to be on the same page when it comes to the expectations of what needs to be delivered, by when, and how much compensation is appropriate.
Setting up these parameters can ensure that communication remains open, expectations are realistic, and conflicts are avoided once development begins.
Stay in communication throughout the project to ensure everything is going according to plan
To have a successful project, it is essential to stay in regular communication with the team throughout its duration.
Developing a plan of active communication can ensure everyone is up-to-date on all the goals, tasks, and issues that arise. This communication approach lets team members provide each other feedback and get help early on in case there are any unforeseen problems.
Plus, staying closely connected during the project helps to keep morale and motivation high. Maintaining communication will benefit your project by providing clarity for everyone and keeping things running smoothly from start to finish.
🔥 FREE TRIAL: Get Started with LoopCV & Send Out 100s of Highly-Targeted Job Applications in <10 Minutes
Automate your recruitment process with Loopcv!
This is the service that automates your job search and recruitment process, and the one I am recommending. Why? Because, it is the ultimate way to find a job and a great candidate so much faster and so much easier!
If you still feel a bit lost with the automation, check out our article here!
Here's the two easy steps you can take:
Identify new companies that are a good match with your existing pool of candidates (We automate the process of collecting jobs, filtering those, matching the job positions with the candidates' CVs and hide the contact details from your client CVs automatically and thus provide a great way for you to prioritize which companies to contact and doing this automatically without having to manually collect jobs and contact companies)
Engage and manage the job search process of your existing pool of candidates. Our platform gives you a streamlined Process to leverage all your talent candidates with the possibility to have a white labeled version with your own logo and brand.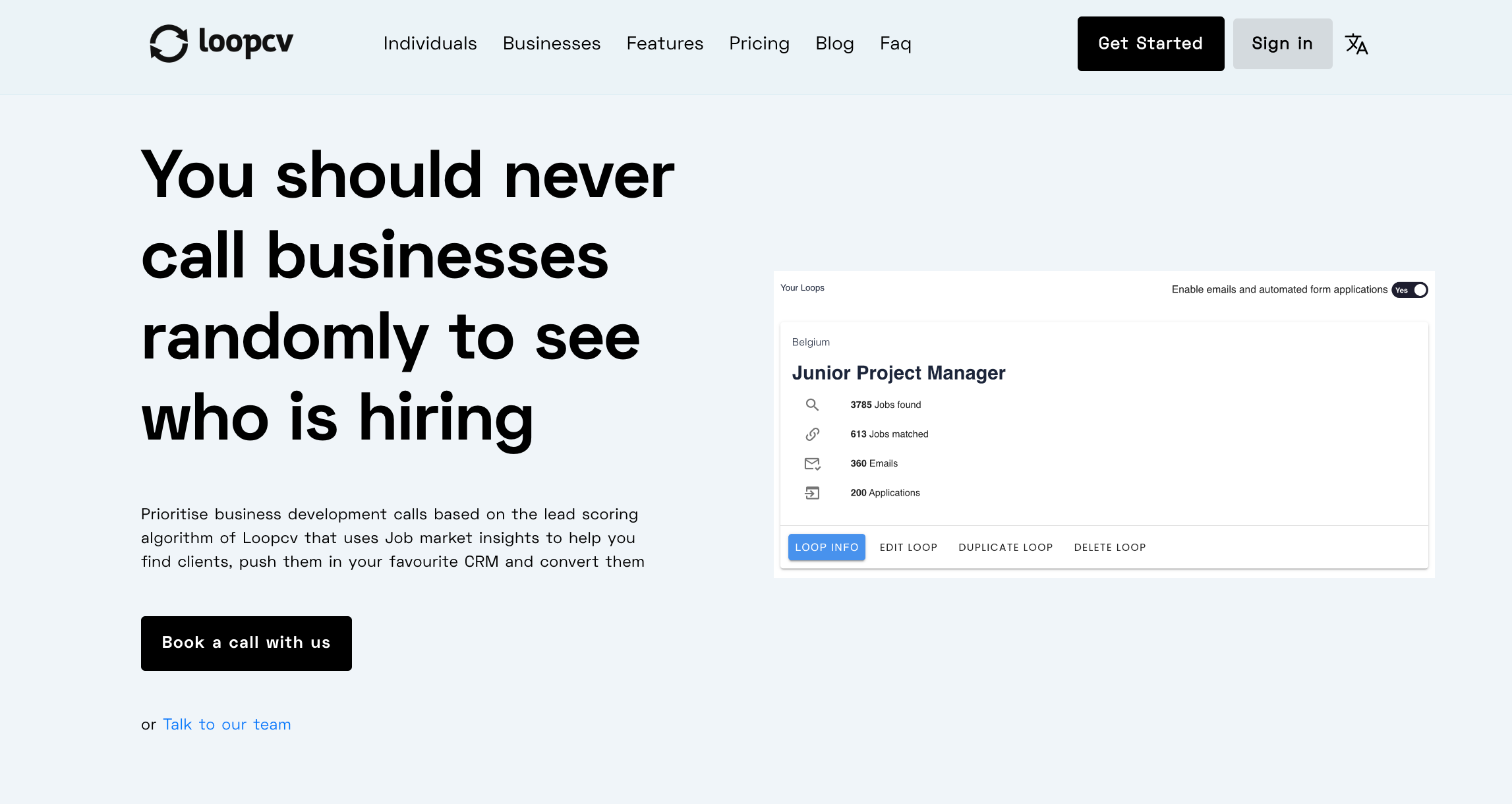 Try out what technology has to give you!
Final Words
Hiring a good developer is essential to the success of your project, but it can be a challenge to find someone with the right mix of skills and experience.
By defining your requirements, searching online, and vetting potential candidates, you can increase your chances of finding the perfect developer for your needs. Be sure to communicate clearly with your developer about what you expect from the project, and stay in touch throughout the process to make sure everything is going according to plan.
With a little effort, you can find a great developer who will help bring your project to life.