Can You Pay Someone to Find You a Job?
If it's the first time, you start looking for a job, then you might struggle to get organized and create your professional footprint. Right? For many people also, this job search procedure it's time-consuming and boring.
So, it may pop up in your mind the question, "Cay you pay someone to find you a job?".  We've all been there, and thankfully we live in an automated era where you can find solutions even for this matter. Check the 7 + 1 possible indirect ways to find a job below!
» FREE TRIAL: Get Started with LoopCV & Send Out 100s of Highly-Targeted Job Applications in <10 Minutes
1. Use a recruiter
Recruiters are not paid to help you get a job. They are paid to find you jobs. This is an important distinction to make, as it will affect how you approach working with a recruiter and what kind of information they're going to be able to provide for you.
First and foremost, know that recruiters have access to many more job opportunities than what's listed on sites like LinkedIn or, Indeed. It's their full-time job! So when you go through this process with a recruiter, be prepared for them not only to give advice, but also provide opportunities that don't exist anywhere else.
A good rule of thumb is: If it sounds too good—and therefore suspicious—then it probably is too good, and thus suspicious. Don't trust everything a recruiter tells you just because they're telling it. Do your own research first before committing yourself to any situation.
2. Use a reverse recruiter
Unlike a recruiter, reverse recruiters are paid to help you get a job. Reverse recruiters work directly for you, the jobseeker, in order to manage your job search.
Reverse recruiters like the ones at Find My Profession will actually search for jobs for you, apply to jobs on your behalf, and then network with hiring managers and key decision makers to land you interviews.
If you want to pay someone to do all the work for you (and don't mind the hefty price tags), then reverse recruiting might be for you!
3. Work with a career coach
A career coach is someone who helps you navigate the ups and downs of your work life. They help you figure out what you want out of your job, how to get there, and how to deal with any problems that arise along the way. Their goal is to help you make progress toward your personal goals. Not just landing a job at all costs, but finding one that will be meaningful for you.
What does a career coach do?
A good career coach can offer many benefits: They're objective bystanders who can help provide new perspectives on situations. They'll also share their expertise about networking skills and interview strategies. Often, they'll even assist with administrative tasks, like writing cover letters or preparing for interviews.
How do I find a career coach?
To find someone reputable in this field and one who charges reasonable rates, check out various professional associations, such as ICF International. You can also search online directories like Clarity Connections. These sites list coaches' fees along with their specialties and background information. Be sure to ask potential coaches if they are certified by any specific organizations before making any final decisions!
4. Use LinkedIn
Use LinkedIn Premium to find a job, or even just good interview questions and answers! To master all the aspects of the process with a cost monthly or yearly.
LinkedIn is a great way to network and research both companies and individuals. It's also an excellent resource for finding out about jobs in your field and keeping up with industry trends.
Check out our article "How to approach someone on LinkedIn for a job" which explains in more details LinkedIn tips!
5. Networking at events
The next step is to attend events, which are a great way to meet people and make connections. Networking isn't just about hiring recruiters. It's about meeting potential employers in person, learning about the industries you want to be in, and even making new key friends. To have access to these networking events, you might need to pay an entrance / participation fee.
There are several reasons why attending events is important:
When you actually talk with someone face-to-face instead through email or text messages, it's easier for people to trust your intentions and build relationships with them. This will give others more incentive to refer you for jobs when they come across openings that might be perfect for your skill set.
You'll learn more about what companies are actually looking for from candidates because during networking events, people tend to be more open than they would be if they were simply browsing job listings on their own time. Or reading through resumes sent by applicants' agents.
It's also common practice at these gatherings for recruiters from each company present at an event not only explain what sorts of positions they're trying to fill, but even discuss things like salary ranges offered by each firm. And information that may not otherwise show up on their official websites!
6. Agencies that help find jobs near me
The first step to finding a job is to decide if you need the help of an agency. If you're unemployed, but looking for work on your own, it's unlikely that an agency will be able to find you a position quickly enough. In this case, it would be more beneficial to use other resources like online job boards or local employment agencies.
However, if you're currently employed and seeking out new opportunities with another company, then working with an employment agency could be beneficial in helping expand your network and find new positions that match your skill set and experience level.
To select a good recruitment firm or headhunter, there are several things which should be considered:
Does their website clearly show the credentials they have? Are there testimonials from previous clients? How many years have they been in business? Do they specialize in certain industries? All of these questions should be answered before contacting any organization about possible employment opportunities.
Does the recruiting agency take care of all aspects of their client's job search process such as applying/interviewing/negotiating terms of employment even after securing an employment offer letter from the hiring manager at target corporation?
7. Apply for jobs on my behalf
You can find recruiters on LinkedIn, or search for them in your area.
You can also use online job boards, like Monster and Indeed, as I mentioned above, to look for recruiters in your area who specialize in your field.
If you're applying for jobs online, don't just rely on one method of applying. Try different options like the ones listed above.
Not all agencies charge money. Some offer their services at no cost because they know it will help them get more clients later down the road if they can prove that they were able to find a candidate a job quickly and easily!
8. Loopcv
Loopcv is the first matchmaking platform that offers fully automation on the job search and job application. Loopcv can help you apply to hundreds of jobs every day automatically, and the best part is that you don't have to spend time doing all the manual steps that you would normally do in order to apply.
Create your profile and upload your CV. Provide Loopcv with your cv and the personal details required by job applications.
Select your desired job titles, locations and many other optional settings. Give Loopcv the requirements of the jobs you're applying for, e.g., what industry or company you want to work in.
Loopcv will search for jobs and either apply on your behalf or give you total control of your applications. Tell Loopcv where to search for jobs that meet these requirements, e.g., LinkedIn. Loopcv will then automatically apply to all jobs that match your criteria.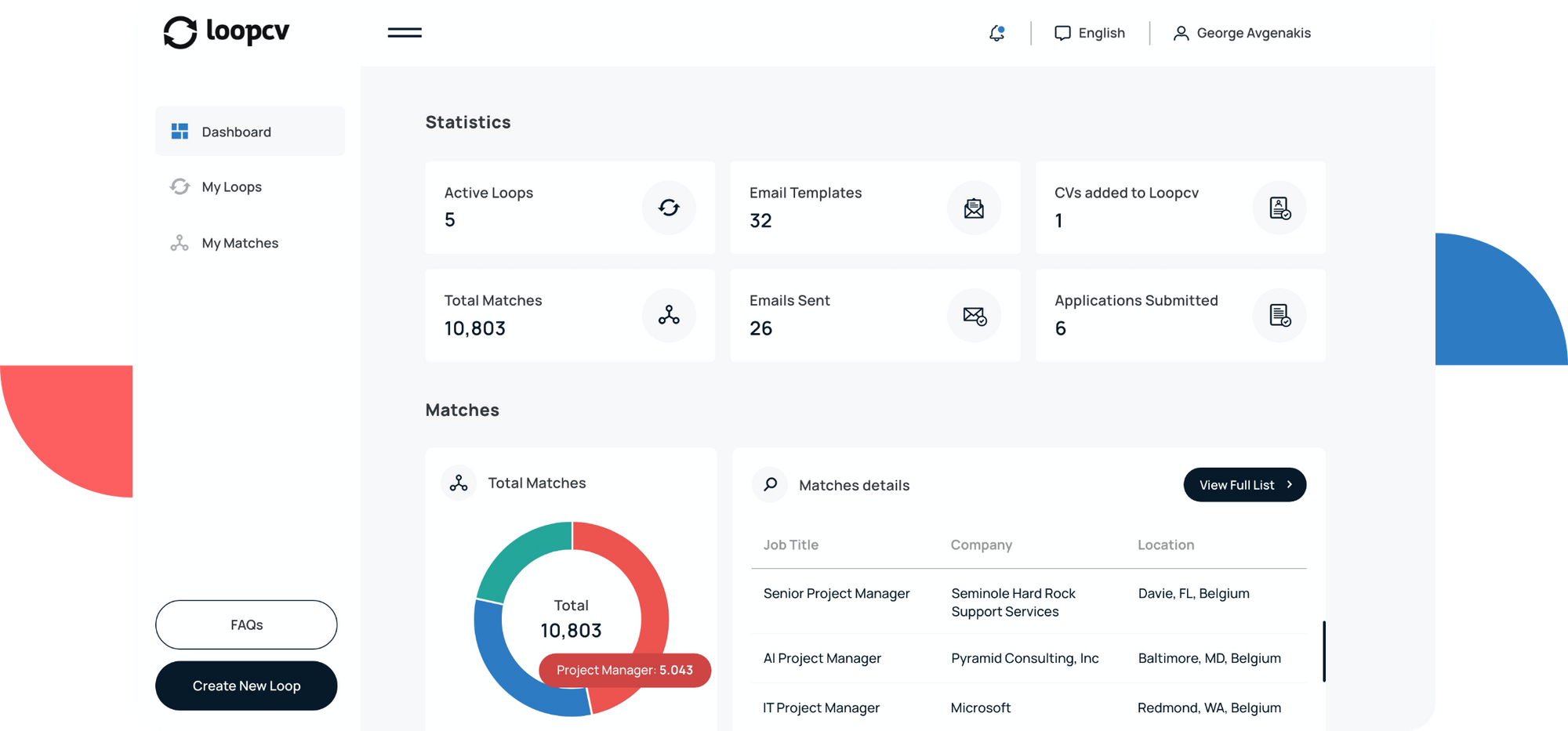 To signup, click here: https://app.loopcv.pro/signup
In conclusion
To conclude, I hope you got a glimpse of how you could approach paid ways to find you a job. People that are specialists and also the best automated platforms in out there! The job process is not an easy one. And for sure, we all know that it can be a full-time job, ironically. But, the important thing here is to work smarter, not harder. The above ways, were all of them smarter ways that can help you in this particular task of yours!
Good luck!