White label job board software
Looking for a white label job board software in Europe, UK or in the United States?
We can support any location with our amazing white-label solution that helps job seekers find jobs and you (at the same time) make money.
Talk with us at Loopcv. We can help you setup an awesome white label version and start generating revenue from your audience
If you are moving into the job search industry welcome! There are a lot of things you need to learn. This article will provide more details about the process of selecting a white label job boards or job search tool.
Especially if you are looking ways to monetise your existing audience creating a white label solution it's a perfect way to get started with this specific job search industry

There are a lot of solutions out there and in this article we try to cover one of the great examples of how you can use a white label version to create an additional Revenue stream and also help individual job seekers find jobs in any location.
While you might be thinking that this is difficult with the white label of Loopcv, It is very easy to get started and our support team can help you start set up your white label solution and also help you create a unique landing page to host our white-label solution in order to start making additional Revenue
Our white label solution is already connected with stripe, an international payments provider and it is very easy for you to collect payments.

we also give you the ability to partner with us if you would like to open  a new market where are you have a very big audience and you would like make an additional Revenue stream so let's see what are white label solution offers.
Does Loopcv provides a white label tool for job search?
Yes. You can find more details in our website here in the whitelabel section where we provide additional details about the matchmaking platform that we offer for candidates to find jobs
This is a simple example of how it currently looks like: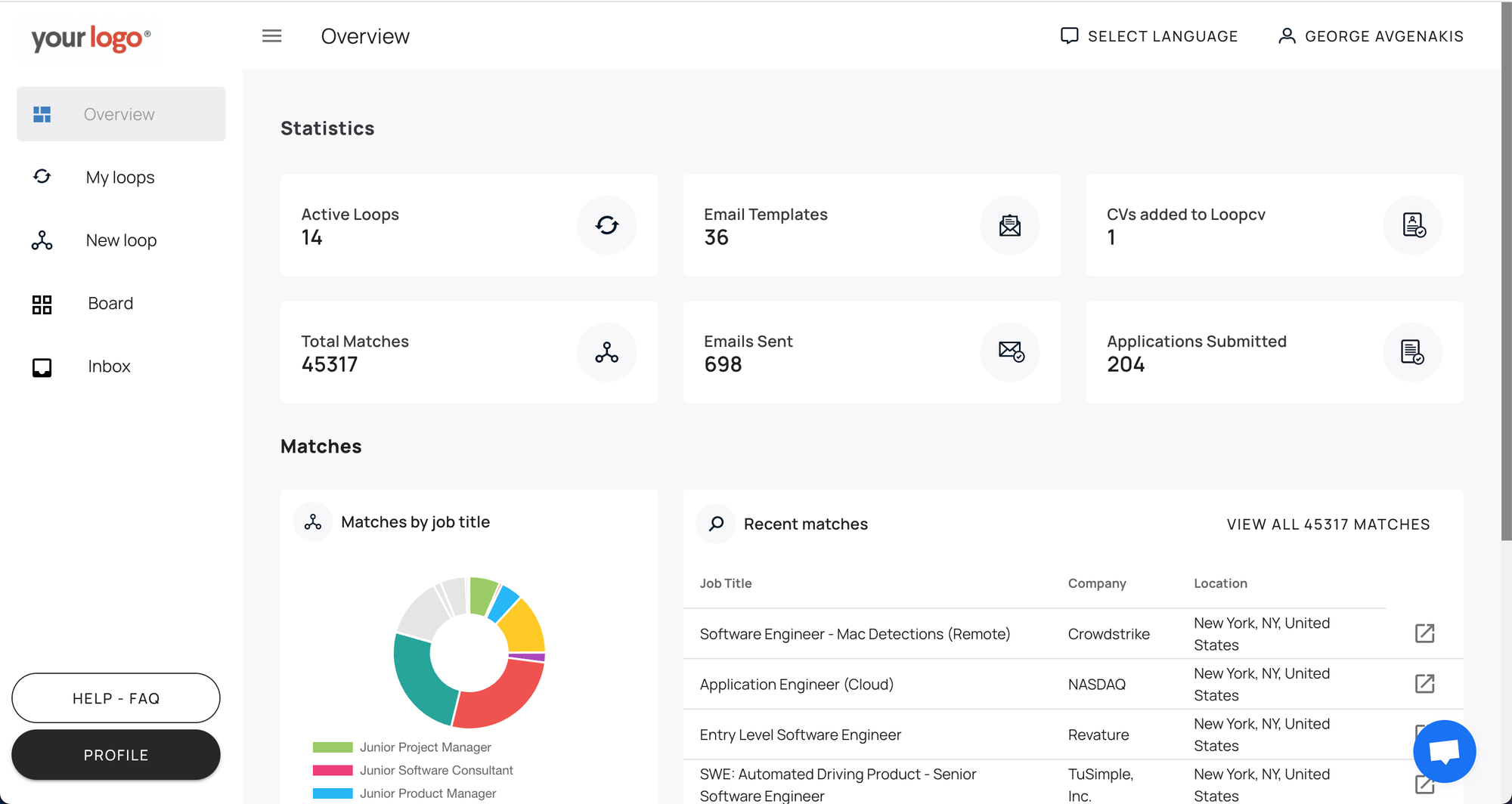 Our white label version is a way to generate additional revenue by creating a more personalized experience for your users.
How much money can I make from the white label version?
Your pool of candidates and your newsletter audience of job seekers is a gold mine. You can use our white label Loopcv version to generate extra revenue from our job search matchmaking platform, helping your clients identify hidden opportunities in the job market.
The amount of money that you can make it depends on the pricing that you would like to charge.
The price for our white label version depends a bit on the specific use case. Typically we charge a fixed price per user per month between (3-10)
You can book a call with us here to discuss more about your use case and define a price that works for you.
How can I use a white label job board or job search platform software?
There are several ways that you can make money from a job board or a white label software. Some of the most common ways are:
Pay per click of a job listing
Affiliate links
Promotion of consulting services
Banner ads
Paid job postings (business to business)
Google Adwards
Best free job board software
If you are looking for a free platform or software to start generating additional revenue check the following link to get started:
https://www.loopcv.pro/whitelabel