Top 10 Books That Will Help You Shine In Your Job Interview
It is definitely a fact, that job interviews are one of the most difficult and stressful things a person has to go through. There are so many things that can go wrong, and you need to be really careful about everything that you say and do. And winning the validation of complete strangers that can change your entire life, is really not a piece of cake.
However, the best thing you can do before a job interview, is to be well-prepared. And how do you do that? It's not the same as preparing to run a marathon. You don't need to work out and eat lots of protein. The key to be prepared for a job interview, is research. That is why, in this article you wil find the 10 best books that you need to read, before your job interview.
1. THE ART OF THE INTERVIEW (by James Storey)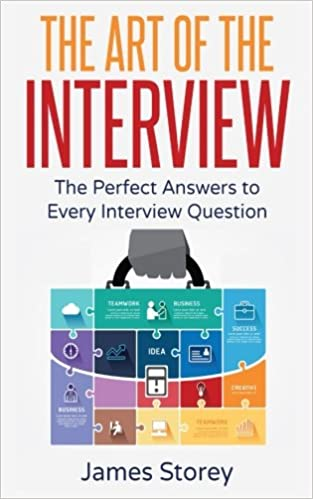 It is very common for someone who is being interviewed, to get really anxious, and forget an answer. Or, they could get really confused by a trick question, and not know how to respond. "The Art Of The Interview" can help to avoid awkward moments like that in comparison to any other custom essay writing service books.
This book makes sure that you will know how to answer a tricky question, and will help you give great answers to the most commonly asked ones. However, this book isn't going to take the interview for you. It is going to help you think for yourself, and it's going to give you great tips, on how to do your best to impress the interviewers.
2. SMART ANSWERS TO TRICKY INTERVIEW QUESTIONS (by Rob Yeung)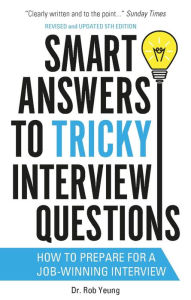 Dr. Rob Yeung, did not write this book without including every possible scenario that might come up at your interview. At the pages of "Smart Answers To Tricky Interview Questions", you will find more than 200 examples of questions that you might get asked. But not only does it open your horizons and helps you know what you might have to face at your job interview, it also gives you examples of appropriate answers to these questions. It will help you focus on your goal, and feel confident and ready, when the big day arrives.
3. CRACKING THE CODE TO A SUCCESFULL INTERVIEW (by Evan Pellett)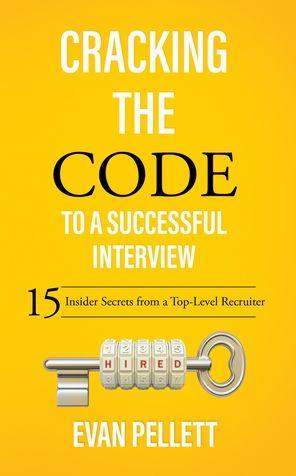 This book isn't quite an ordinary book. It doesn't show you the answers to questions such as "how are you?" and "do you have any pets?". Instead, it shows you what interviewers sometimes maybe unconciously need to hear from you. It explains the depth of the questions you will most likely get asked, it helps you be prepared to leave your interviewers speechless. Pellett will help you see through an interviewers eyes, and see why all these superficial questions, are so important in order to do well at a job interview.
4. GET THAT JOB! (by Thea Kelley)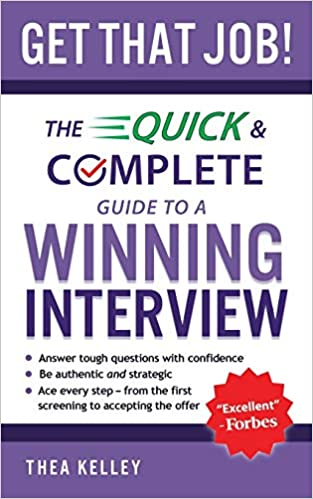 This book has been described as "excellent" by forbes.com for a reason. Thea Kelley, wrote this book to help all job-hunters feel motivated and cofident for their job interview. And in order to be feeling safe and calm you need to read this book, and feel prepared and put-together. It will take you through the very beginning of the interview, to the very end of it, and it will help you be authentic and strategic, give great answers to the toughest questions you might be challenged with, and you will ace the whole interview!
5. 60 SECONDS AND YOU'RE HIRED! (by Robin Ryan)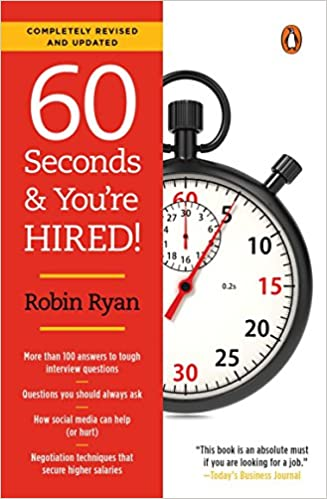 This book, has already helped thousands of job-seekers get their dream jobs, by excelling their interviews. Robin Ryan's experience plays a very important role as it helps her be precise about the steps of an intrview, about what interviewers want to hear from you, and finally, about what "traps" you should definitely avoid. THis book will help you achieve all that, through unique techniques such as "The 60 Second Sell", and "The 5-Point Agenda", by presenting you over 125 answers to tricky questions that interviewers usually ask, and by showing you questions you should, and should never ask. Last but not least, Robin Ryan's book, is going to help you deal effectively with any salary questions, and it is going to take you through proven negotiating techniques that will guarantee you a higher salary.
6. HOW TO ANSWER INTERVIEW QUESTIONS (by Peggy McKee)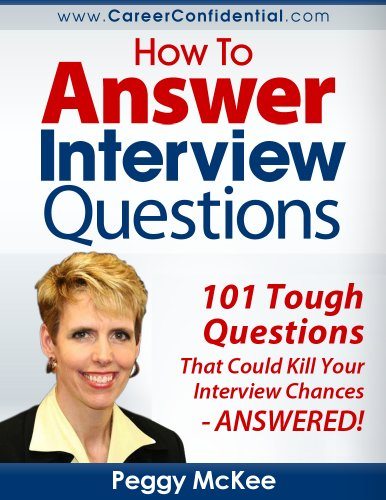 The only question that employers trully want to ask you, is "why should we hire you?". But instead of coming up to you and directly asking you that question, they take you through so many others, to help them be able to answer the actual question: "should we hire them?". Peggy McKee, presents you what interviewers are looking for in your answers, but she also warns you about answers that might kill your chances to get the job. In this book you will find answers to questions such as "what salary are you looking for?", "why do you want to joing this company?", "what's your greatest weekness?", and "what motivates you?". If you have ever felt like you can't express what you want to say, using words, or that you cant quite "sell yourself" when it comes to interviews, or even that you feel very stressed and insecure when the big day arrives, this book will help you get rid of these negative feelings, and make you feel confident and secure.
7. ACED (by Gerald Ratigan)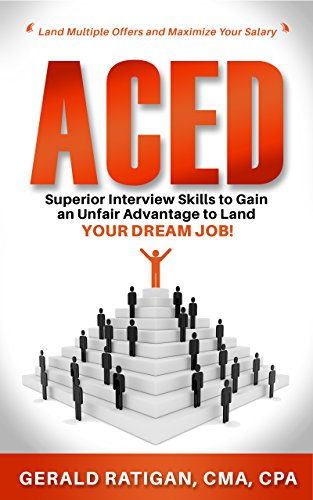 Aced, is the ideal book, for introverts, that struggle a lot with job interviews, and have a very intense fear of failure. Gerald Ratigan shares his experiences, the things he has done right, and the things he has done wrong, in order to help you avoid doing his mistakes, and share his own tips and tricks, on how to impress an interviewer. This book will help improve your negotiating skills, and change your job search for the better. It will help you get your dream job, as well as to get a promotion at your current job. The author uses his decades of experience as both a job candidate and and as a hiring manager, to help you land your dream job.
8. JOB INTERVIEWS FOR DUMMIES (by Joyce Lain Kennedy)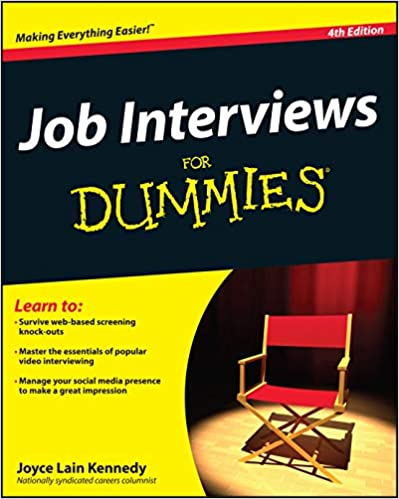 This job, is not meant for dummies, but it is meant for begginers, or simply people that want to improve the answers they usually give, in order to see better results. Joyce Lain Kennedy, wrote this book to secure you your dream job! She helps you overcome the fear of being interviewed, and the fear of failing, and she helps you use your skills and best qualities to help you get the job. After reading this book, you will know how to out-prepare the competition, fit your qualifications to the job's requirements, negotiate a better salary, evaluate a job offer, survive personality tests, dress like an insider, and so much more.
9. 101 GREAT ANSWERS TO THE TOUGHEST INTERVIEW QUESTIONS (by Ron Fry)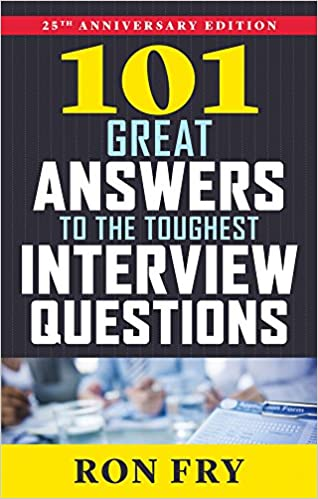 Sure, it is important to dress appropriately, wear your best smile, and have your qualifications match the job description perfectly. However, if you don't know how to give more than "okay" answers to tricky questions you might get asked, those things are simply not enough, to get you your dream job. Ron Fry, helps you know what kind of questions interviewers often ask, and what are the best answers to them. "101 Great Answers To The Toughest Interview Questions" can also be described as a manual that will help you home on exacly what the interviewer is trying to learn. Whether you are a beginner on the job-hunting process, someone that wants a promotion, or someone who is tired of being interviewed again and again but not landing any job offers, this book is exactly what you need!
10. KNOCK 'EM DEAD JOB INTERVIEW (by Martin Yate)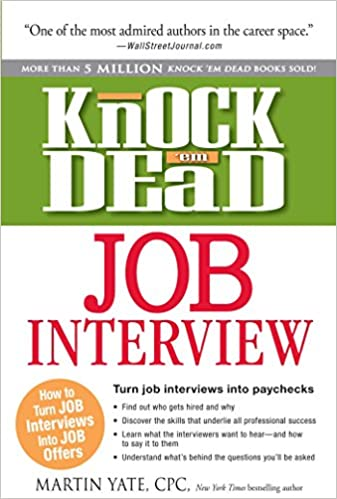 Something that makes job interviews, 100 times harder, is that you are not the only one who's being interviewed. There may even be hundreds of candidates, and in order for you to be the one to get the job, you need to be different than all the others. And a fancy new suit, or a pair of nice pricey heels, won't be the thing to help you stand out from the crowd. Using his twenty-five years of experience, New York Times bestselling author Martin Yate, has established a set of rules that for job interviews that is sure to get you noticed. Instead of making you memorize answers to standard interview questions, he provides you with an explanation of the thought, behing over 300 questions and answers. In this book, you will also find ways to handle stess and anxiety, when the moment you are dreading finally comes.