The 5 Best Matchmaking Platforms for Job Seekers
Looking for the best matchmaking platforms? Let's start. There are many factors that go into the perfect job - from the company culture to the salary. The job market can be tough with so many prospects to consider, and finding the right fit can often feel like a daunting task. In this article, we take a look at some of the best sources and platforms for job seekers - no matter what type of position you're looking for!
Introduction
Making a job hunt embarrassing can be avoided. To accomplish this, I have put together a list of the five best matchmaking platforms for job seekers.
1: Loopcv
Loopcv is the first matchmaking platform that offers fully automation on the job search and job application. Loopcv can help you apply to hundreds of jobs every day automatically and the best part is that you don't have to spend time doing all the manual steps that you would normally do in order to apply.
You can send emails, apply to companies and upload your CV in order to find job postings that are related to your profile. Loopcv will help you find all the jobs that match your profile by integrating multiple job boards and matchmaking platforms (like Linkedin, indeed monster and Glassdoor)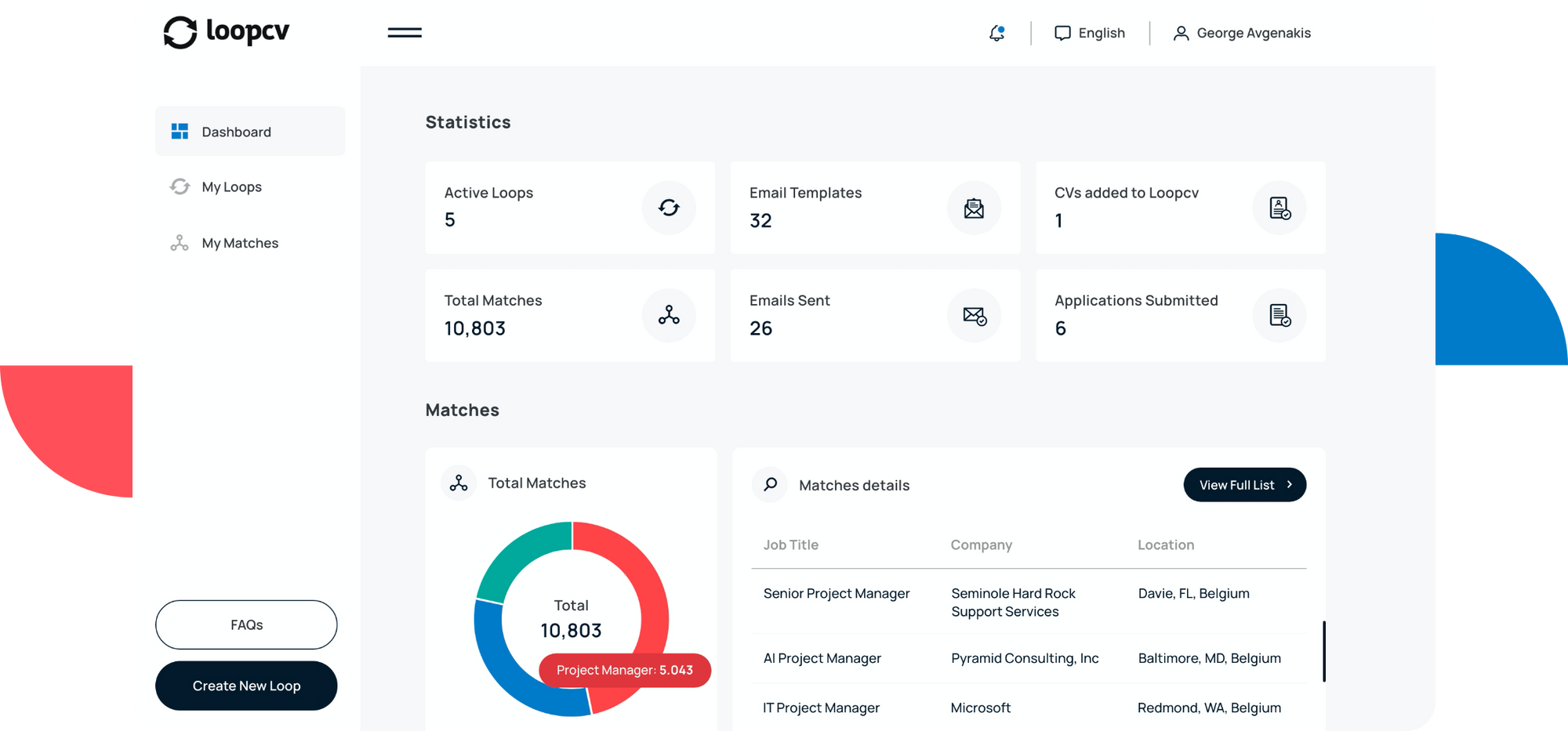 Pros and Cons of Loopcv
While Loopcv is the first fully automated platform with personalisation in the template emails, in the end no automated system can judge if a job is a good fit for you better than you! Loopcv uses Machine learning and advanced Artificial intelligence technology to find the best jobs for your profile, but of-course there are cases where the machine learning model might not be 100% accurate.
In any case, it can help you save A LOT of time and help you find a job super fast.
2: LinkedIn
LinkedIn is the most popular social site for job seekers. The site has a unique professional network that connects job seekers and employers. You can use LinkedIn to find career opportunities, get in touch with mentors, and connect with potential employers. There are usually two ways for professionals to reach out to your company on LinkedIn: by requesting an introduction or by sending you an InMail.
Pros and Cons of Linkedin
The best matchmaking platforms for job seekers have many benefits. Some of them allow job seekers to save their search preferences, get matched with jobs matching the interests, and receive email alerts about new jobs matching the criteria. However, not all of these platforms are free and some may have a lower employment rate than others because employers can find candidates on different platforms as well.
2: Monster.com
Monster.com is one of the most popular sites for searching for jobs. It has a huge database of job listings, but with so many to choose from, it can be difficult to find the right fit. Monster has an advanced search engine that will help you find a job by typing in keywords or phrases and setting your location. Monster also provides company information such as the company's address, phone number, and other details.
Pros and Cons of Monster.com
Monster.com is a popular job-matching platform that has been around since 1998. The site hosts listings from over 4,000 companies and universities to help candidates find the perfect job. It also has an intuitive interface, making it easy to navigate through the site to find what you're looking for. However, Monster.com lacks in features for job seekers who prefer to hunt for jobs on their own timeline and offers few options for people looking for work outside of the United States and Canada.
3: Career Builder
Career Builder is one of the most well-known job search websites. The interface is easy to use and it's very quick. It also has a lot of jobs available, so it won't be hard to find a promising position. The biggest downside to Career Builder is that the site can be overwhelming for those who are looking for a specific type of job or location.
Pros and Cons of Career Builder
Career Builder is one of the most popular job-hunting sites. It has a variety of people that are searching for jobs so you can use it to post your resume. Users can also search by occupation, category, or keyword. There are some negatives to using this site. The site is often bombarded with fake job listings and many jobs require an account before applying.
4: Indeed
Indeed gets over 100 million monthly visitors and has over 1 billion monthly searches. It is a great way to find jobs in your area of interest. You can search the site by company, job title, location, or salary.
Pros and Cons of Indeed
One of the most popular job search websites is Indeed.com, but this site has many cons. For example, it has a low success rate when compared to other websites. Furthermore, the website lists every job posting in every city, meaning that a user may have to go through hundreds of postings before finding the right one for them
Job Matching Platforms Startups
Conclusion
This blog discussed the best matchmaking websites for job seekers. The conclusion was that you should use Indeed, LinkedIn, and Glassdoor to find a job.