Is there a way to autofill job applications?
If you're like me and hate filling in job applications, then you'll be happy to know that there's an easy way to do it: Autofilling!
Our era is definitely the easiest one when it comes to completing things of our own. We have fast access to internet, so we can find out all the things we don't know. We can find tutorials, video, articles, guides, and all sort of helpful materials that will provide us with answers.
Not to forget to mention that we can have other people or machines in our case, to help us with job search, job applications, with our work tasks etc...
So, if you want to know how a machine can actually help you find a job, then check out how to do it, below!
» FREE TRIAL: Get Started with LoopCV & Send Out 100s of Highly-Targeted Job Applications in <10 Minutes
Autofill inbox with emails
If a tool like Autofill Inbox With Emails is not already on your list of go-to tools, now might be the time to add it!
Autofill for your inbox is a helpful feature that can save you time when filing emails. It works by automatically transitioning from one email to another, allowing you to view all messages in order and take action on them quickly. It's also the great tool in order to personalize your messages and convert them!
To use Autofill:
Open the email window where you want to start autofilling messages (e.g., Inbox).
Click the three-dot menu icon on the right side of your keyboard or press CTRL + Shift + T at once, then select Autofill Inbox from context menu…
Otherwise, you can find similar platforms like the one above, make your account and start using it!
Go through your emails
This is the best way to find out what the employer wants from you. They may have a specific format for application, or they might even give explicit instructions in the email itself. For example, if there's an email address listed for submission (eg: jobs@company.com), then it'd be wise to submit your resume at that particular address rather than another one provided by them on their website or elsewhere.
When going through these emails, check the content of each one carefully and see what information it gives about the job vacancy being advertised: Its title/position, responsibilities and requirements necessary to apply for the position (especially if they include any specific skills or certifications).
This will help you determine whether your resume would fit into its criteria or not before submitting it, as well as prepare yourself with possible questions asked during interviews later on, in case they ask similar ones during those meetings.
The point here is to personalize and adjust your emails with automations, so that you can save time and also, in the future emails you won't need to write them from the beginning.
Fill in a job application
When it comes to filling out job applications, you'll want to make sure that you're using all of your best practices for applying for jobs. You also want to make sure that you're using all the available tools at your disposal during this process so that you can get your application in as quickly as possible and get back to doing what's important. Getting hired!
If you're applying for a job, you'll likely have to fill out an online form. To make the process easier, use your mouse or touchpad to highlight the form fields and use auto-complete suggestions as you type.
Once you've filled out all the required information, check off any boxes that say "I agree" or something similar at the end of a job application. Finally, click "submit" and wait until they get back to you with their decision!
Ok, how can I actually autofill job applications?
In order to autofill your job application, you will need to create a profile in the system. We are suggesting you 3 tools below. But, you can make your own research. This involves signing up for an account and then filling out a short survey that includes basic information such as your name, age, gender and employment history.
Once you have completed this step, you can begin working on your profile by adding any relevant courses or certifications from previous employers or schools.
Once these details have been added to your account, it's time to start using the system! To begin this process:
Sign in to LazyApply  or Simplify (using your email address)
Create an Inbox folder where all of your emails from applications are stored.
Go through all the applications received so far in LazyApply by clicking on them one at a time and completing each one before moving onto another one.
Autofill Job applications with Loopcv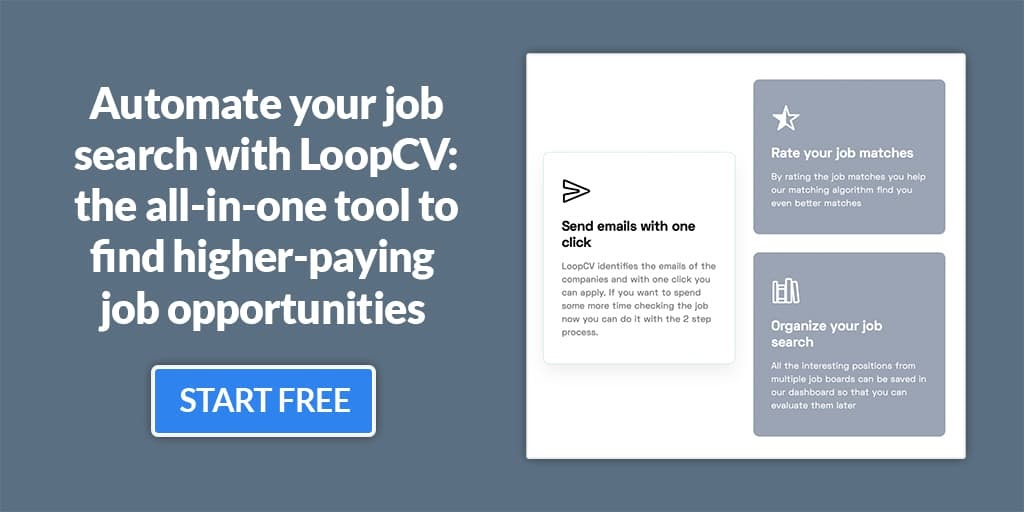 Not to brag about it, but, well, things get a lot easier with Loopcv.
This is a platform where with very simple steps (check below) you can find a job fast and effective.
Everything is automated, so you don't have to worry about a lot of things, just to know what job / field you are looking for! And Loopcv will make your dream job a reality!
Another useful feature, is that it can provide you with tips, tricks and advices for your job research. Its automations will make your life easier and your results much more efficient!
Let's see the steps to sign up!
Create your profile and upload your CV. Provide Loopcv with your cv and the personal details required by job applications.
Select your desired job titles, locations and many other optional settings. Give Loopcv the requirements of the jobs you're applying for, e.g., what industry or company you want to work in.
Loopcv will search for jobs and either apply on your behalf or give you total control of your applications. Tell Loopcv where to search for jobs that meet these requirements, e.g., LinkedIn. Loopcv will then automatically apply to all jobs that match your criteria.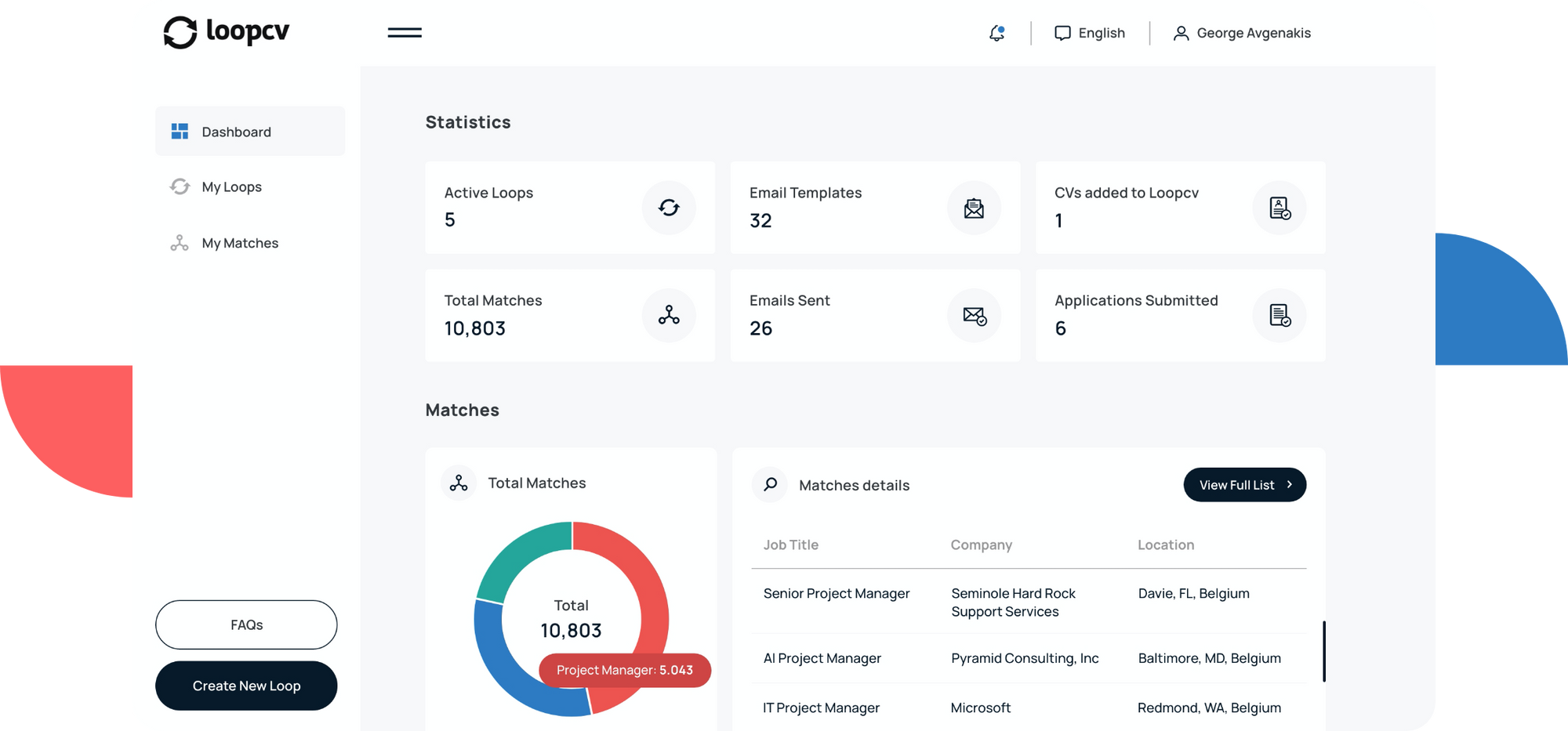 » FREE TRIAL: Get Started with LoopCV & Send Out 100s of Highly-Targeted Job Applications in <10 Minutes
What distinguish Loopcv in autofilling job applications from its competition, is its easy interface and convenience to use it. It's also the fast results in job applications and, finally, the fact that many people trust this as a service every month!
Conclusion
The autofill feature is a powerful tool that can help you save time when filling out job applications.
My advice to you, is to experiment with all the tools available, in order to find out the one that is going to be the most suitable for your case!
This research might take some of your precious time, but just imagine how much time it will save you from searching and applying to jobs. It's actually and full-time job work saver.
So give it a try!