Is it okay to get a job through a recruiting agency?
When you're looking for a new job, there are plenty of websites and services out there to help you. Among these are recruiting / staffing agencies, which basically act as middlemen between companies that need employees and prospective workers.
But what exactly is a staffing agency? And how effective are they at helping people find work? Here's everything you need to know about working with a recruitment agency!
» FREE TRIAL: Get Started with LoopCV & Send Out 100s of Highly-Targeted Job Applications in <10 Minutes
Table of contents
What is a recruiting agency?
A recruiting agency is a third party that helps companies find and hire employees. Some agencies specialize in certain industries or roles, while others may be more general in their approach.
They can be a good way to find work, but it's important to remember that they are not the same as temp agencies, which provide temporary staff to fill in for employees on leave from their full-time positions.
In addition to helping you find your dream job, recruiting agencies also offer an alternative option for finding permanent employment. Some companies pay them for each candidate they place with companies, a fee, that's added onto your salary every month.
How do they work?
Recruiters are paid by the company, not the employee. This means that they are incentivized to find you a good job, and not just any job.
When recruiters work for an agency, it helps them build up their reputation as well as their skills in finding great candidates for the companies they represent.
Because of this, recruiters may be able to help you find a better-paying position than what you're currently looking at, but only if you're qualified for it!
What's the recruiter for you?
Recruiters are not your boss.
They are not your friend, they're not your parents, and they're definitely not your therapist or coach.
Recruiters only work for the company that hires you.
If something happens with that company, it's up to them to decide if they want to keep you on as an employee or let you go. The recruiter has nothing to do with this decision, but will be there for whatever outcome occurs.
The recruiter can help you present your best self.
If you want to get a job through a recruiting agency, the recruiter can help you present your best self. The recruiter knows what the company is looking for and can help you prepare for interviews and tests.
Imagine that, the fact they came first to you, it's very positive because many of the skills you have are in demand for the job position. This already gives you a boost ahead. The recruiter can perfect this process by highlighting the most important aspects of the job position and of your CV!
Should I use several recruiters?
The best thing to do is to use as many recruiters as possible. You will want to make sure that your recruiter is in your industry, geographic area, and field of work. The reason for using multiple recruiters is that each one can specialize in a different aspect of recruiting.
For example, if you are looking for a job in management at a remote location but live near a major city like New York City or Los Angeles, then it may be helpful to use two recruiters: One who specializes in finding jobs in management at remote locations and another who specializes in finding jobs within walking distance of where you live (or near public transportation).
Applying directly vs through a recruiter.
Your first option is to apply directly through the company's website or job board. There are several ways that you can do this:
Apply directly on their careers page.
Email them with your resume attached.
Call the company HR department and ask if they have any open positions that fit your background, then ask to be put in touch with someone who works at that company for more information about whom to contact about applying for a position.
Once you've sent in an application, make sure that you follow up as soon as possible by emailing or calling whoever handles applications and letting them know how interested you are in working at their company. You want to show them that not only do you have experience, but also that it's relevant experience.
And how is it to use a recruiter?
Why use a recruitment agency to find a job.
There are several reasons why you should consider using a recruitment agency to find you a job:
You don't have to do the work. They have done it for you, so all you need to do is apply!
They'll help you with your resume, interview preparation and salary negotiation.
They can also help with relocation if necessary.
Also, you'll need to fill out an application and provide references. Some agencies may ask for transcripts and/or diplomas as well.
Agencies work on commission, which means they get paid based on how many candidates they successfully place into jobs. This doesn't mean that every candidate they recommend will get hired. It just means that if they do get hired, the recruiting company gets paid. If this is something that concerns you, talk to your recruiter about it before signing anything!
Why do companies hire through staffing agencies?
When you're looking for a job, it's easy to assume that companies will hire the best candidate for the job. In reality, companies sometimes need help finding qualified applicants.
They might not have the time or resources to put together a long-term recruiting strategy and build a well-populated database of candidates who fit their organization's needs.
They might be constrained by budget issues or other internal policies that prevent them from hiring full-time employees.
They could be experiencing turnover at critical times during the year (e.g., during busy seasons), which makes it more difficult for them to find good people on short notice and get them up to speed quickly enough before certain deadlines are due.*
Are recruiting agencies taking a cut of your salary?
Recruiting agencies are paid by the company, not you. A recruiter's job is to find you a job and send your resume to the employer. They will negotiate a price with the company that includes taking a cut of your salary as well.
Most recruiters will try to negotiate this down for you by finding more jobs at higher paying companies or by asking for less money from employers.
But, no, they won't take a cut of your salary!
BONUS: Find your next job with Loopcv
Loopcv is the first matchmaking platform that offers fully automation on the job search and job application. Loopcv can help you apply to hundreds of jobs every day automatically, and the best part is that you don't have to spend time doing all the manual steps that you would normally do in order to apply.
You can send emails, apply to companies and upload your CV in order to find job postings that are related to your profile. Loopcv will help you find all the jobs that match your profile by integrating multiple job boards and matchmaking platforms (like LinkedIn, indeed monster and Glassdoor).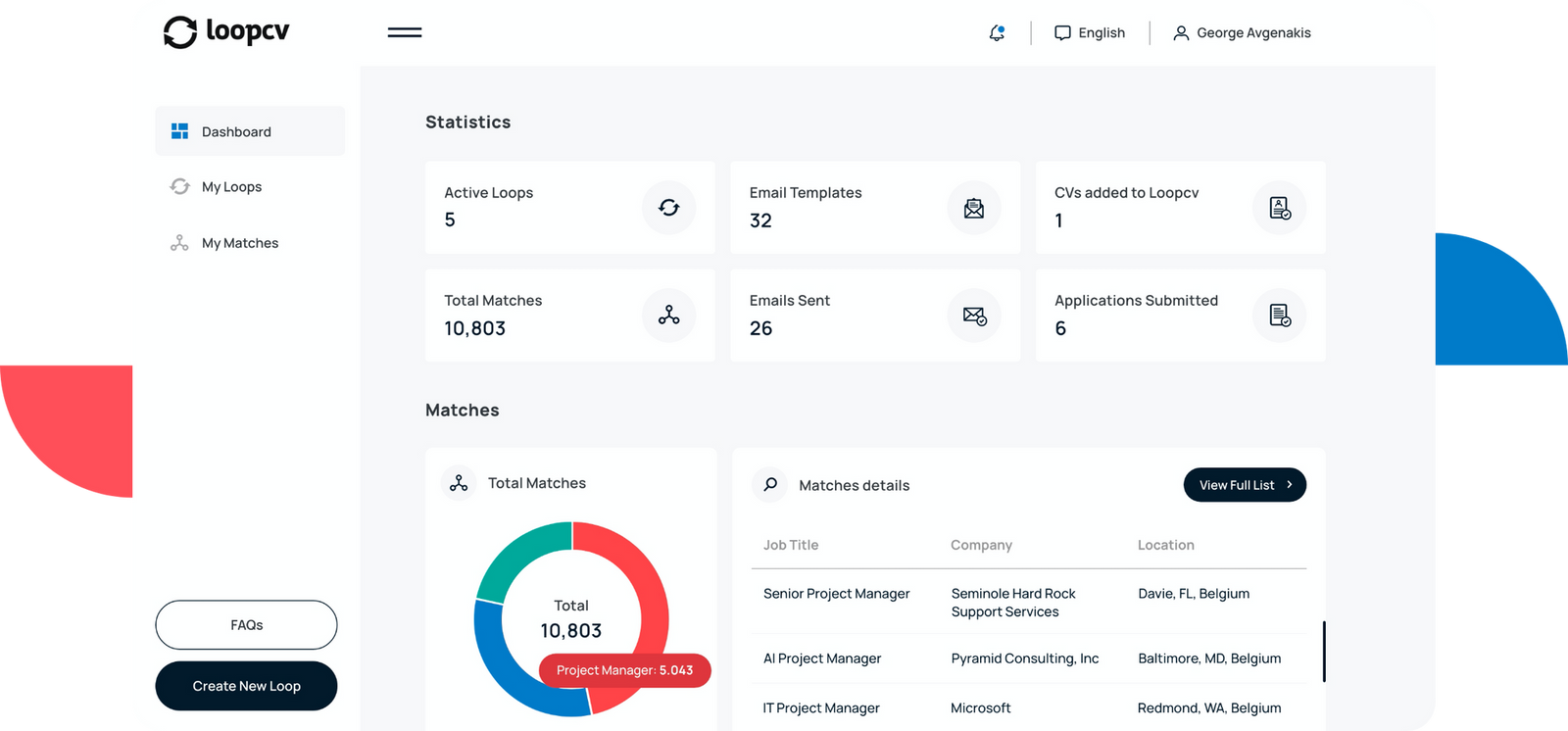 » FREE TRIAL: Get Started with LoopCV & Send Out 100s of Highly-Targeted Job Applications in <10 Minutes
Conclusion
In conclusion, we can say that getting a job through an agency is not only safe, but also a great way to get work.
When you work with a recruiting agency, they will help you set up your resume, interview skills and other things that are needed to get hired. You can also negotiate your salary through an agency.
There are many benefits of working with a recruitment agency when looking for jobs. Some of these benefits include getting a job faster than if you were doing it yourself, being able to learn about the company before accepting an offer from them, and having someone else negotiate your salary on your behalf without having to leave any money on the table for yourself. Since recruiters typically get paid based on how much money they bring in.
Good luck on your research!
---
Additional resources