EB3 visa: Guide on how to get EB-3 Visa for Work
An EB3 visa is an employment-based, third-preference visa granted to foreign nationals who are sponsored by their employers. It allows them to work and live in the United States on a permanent basis.
We created this guide in order to provide you information on how to get an EB3 visa for work purposes.
Below you can find all the details needed!
» FREE TRIAL: Get Started with LoopCV & Send Out 100s of Highly-Targeted Job Applications in <10 Minutes
---
Table of contents
---
Does EB3 give you green card?
In order to be eligible for an EB3 visa, an individual must have a valid offer of employment from an employer in the U.S. The employer must also meet certain requirements, such as filing an EB3 visa petition with the United States Citizenship and Immigration Services (USCIS).
Additionally, the applicant must demonstrate that they possess the necessary qualifications for their intended profession or trade.
Once the EB3 petition has been approved by the USCIS, the individual must apply for the visa at a U.S. Embassy or consulate in their home country. The application process will require all necessary documents, such as proof of employer's sponsorship and job offer, academic and professional qualifications, evidence of funds to support oneself during stay in the United States, and other materials.
If approved, the EB3 visa is valid for up to a maximum of six years, after which it can be extended indefinitely. It also grants holders the right to apply for permanent residence status in the United States!
How Do I Apply For an EB3 Visa?
Employers submit Form I-140 Petition for Alien Worker on behalf of the applicant. Employers must demonstrate their ongoing capacity to pay the proposed salary as of the priority date. Acceptable documentation includes an annual report, a federal income tax return, or an audited financial statement.
The EB3 visa requires the business to submit a PERM application and keep a Labor Certification (Form ETA-9089) demonstrating that no other Americans are willing or qualified to fill the post.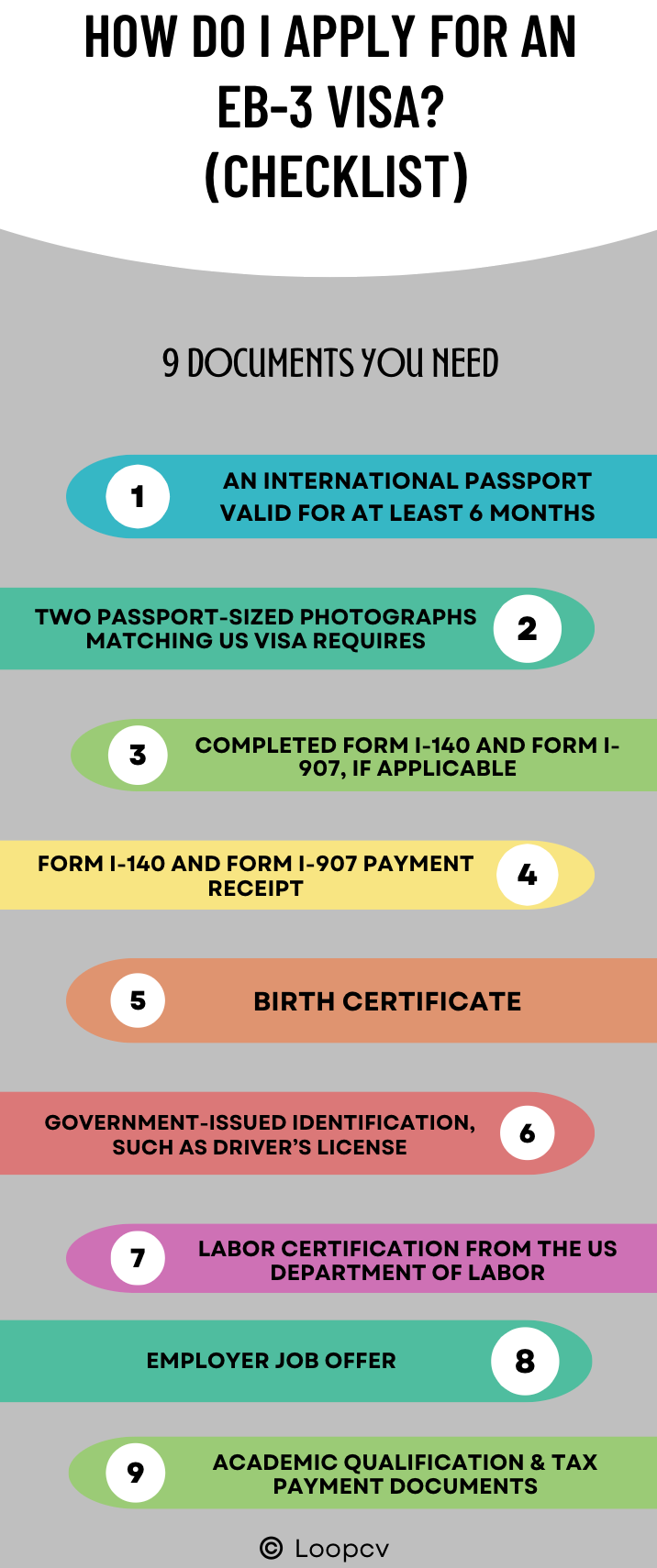 You may also be required to provide other case-specific papers. In addition, if any of your supporting papers are in a language other than English, you must translate and validate them. Original and translated copies must be submitted together.
Who qualifies for EB3 visa?
The EB3 visa standards are less stringent than those for other green cards, such as the EB-2, and hence are inspected less rigorously. As a result, there are more opportunities to get an EB3 visa. However, acceptance is often subject to a waiting list.
Most EB3 visa petitions from temporary (non-immigrant) visas cannot be changed until the petitioner's priority date becomes current. When the Labor Certification Process begins, this date is established.
The employer is required to:
Submit form I-140 with USCIS
Demonstrate that they can afford the promised employment if the Green Card is granted
And demonstrate that the recipient fits the relevant standards.
There are three ways to qualify for an EB-3 visa:
This job requires at least two years of relevant work experience or training. A Labor Certification Process is also necessary to show that no competent employees are currently available in the United States to fill the employment.
A bachelor degree is required for the post in question.
Unskilled/"Other" Workers:
The third category includes occupations that need less than two years of training. (Temporary or seasonal positions)
Individuals with an accepted form I-140 may be eligible to downgrade from EB-2 to EB3 status.
---
You can also read our article: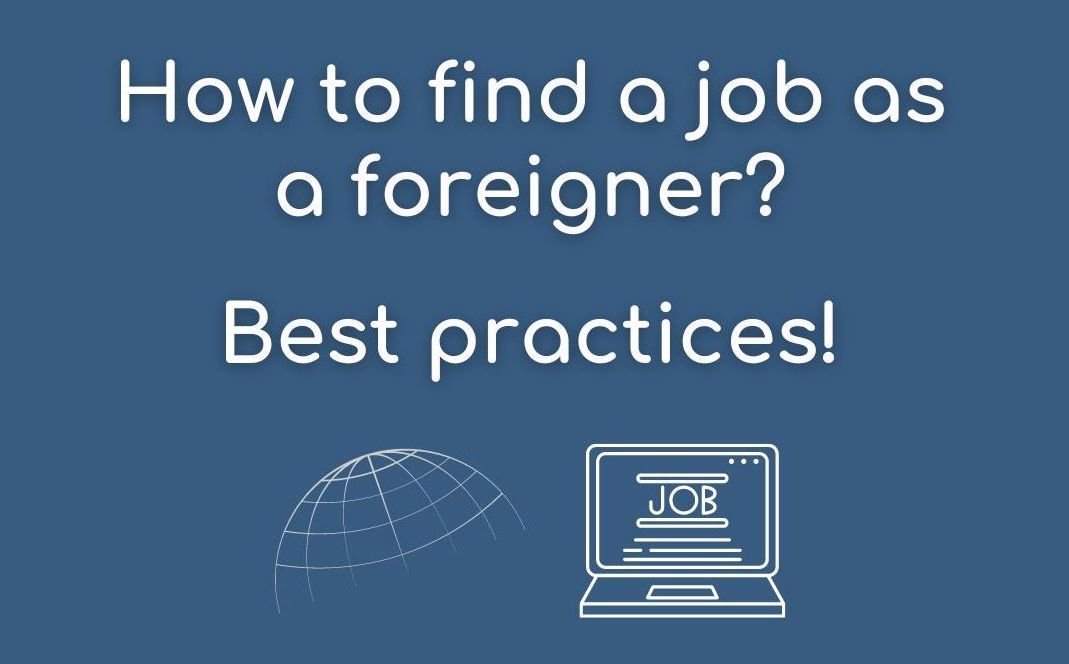 ---
EB3 Visa Processing Time
The processing period for the EB3 Visa is rather lengthy.
Depending on your place of origin, it might take anywhere from one to three years. It might take up to 6 years for certain countries with a low yearly visa limit. As previously stated, the processing period for PERM labor certification is around 6 to 9 months.
Your EB3 Visa will be processed within 15 calendar days if you pay the $2,500 premium processing fee. The clock begins ticking when USCIS gets your Form I-1907. When submitting your Form I-1907 application, make sure you include all the needed materials. The 15-day period starts when the department receives all required application paperwork.
Can I stay in US while waiting for EB3?
Some EB3 visa applicants may remain in the United States for the duration of their application for a green card. Others must leave the country, either to wait for a visa or to attend their immigrant visa interview, which is the last significant stage in the immigration process.
The immigration authorities prefer that you wait outside the United States for the duration of your application, and then attend an interview at a U.S. consulate in your home country, where you will be issued an immigrant visa. With that visa, you may enter the United States and become a legal permanent resident, also known as a green card holder.
What is the cost of an EB3 visa?
Form I-140 filing fees are $700, and Form I-907 premium processing fees are $2,500. Your employer, as the petitioner, is responsible for paying these expenses, not you.
Before they can submit the paperwork, your employer must pay these costs. Payment receipts must be presented as supporting documentation. The Form-1907 charge is non-refundable, regardless of whether your petition is allowed or refused.
Other costs, in addition to the formal application fees, may apply. If necessary, you may pay for medical checks and vaccines. If you want translations or a translator for your visa interview, fees may apply. These additional expenditures are not fixed. They differ from one nation to the next.
Is there an interview for EB3 visa?
Yes, there is!
The goal is to ensure that the information and papers presented are legitimate.
Your interview date is determined by the time it takes for your EB3 Visa to be processed. You'll get an appointment letter with your interview date, most likely by email. It is critical that you bring the essential documentation to your interview. However, you are not needed to provide copies of papers that you have previously filed.
You may be required to get biometric services prior to your interview. The immigration officer will ask you questions about yourself throughout the interview. If you present all required papers and do well during the interview, your visa application should be approved at the conclusion of the interview.
If your visa application is granted, the EB3 visa stamp will be added to your international passport. You will also be given a sealed package that you should not open. At your port of entry, the parcel will be handed over to a US customs officer.
More information on EB3 visa!
For more information on an EB3 visa and how to obtain one, please visit the USCIS website or speak to an experienced EB3 visa lawyer. This guide provided a general overview of EB3 visa for work purposes, but the actual process may vary depending on individual circumstances.
Before applying for an EB3 visa, individuals should seek out legal advice and assistance to ensure that their application is successful.
It is important to note that EB3 visas are subject to certain restrictions and regulations. For more information on EB3 visa eligibility, requirements, and other details, please consult the USCIS website or speak to an EB3 visa attorney.
» FREE TRIAL: Get Started with LoopCV & Send Out 100s of Highly-Targeted Job Applications in <10 Minutes
In conclusion
An EB3 visa can be a great opportunity for individuals looking to live and work in the United States. With the right information and guidance, the EB3 visa process can be relatively straightforward.
However, it is important that individuals seek out professional advice when applying for an EB3 visa to ensure their application is successful!
Good luck!
---