Top 10+1 Small Business Tools for Productive Online Entrepreneurs
Table of contents:
---
Introduction
When it comes to the modern marketplace, entrepreneurship is becoming quite large.
As such, you can constantly see small businesses pop up around the entire globe at an astronomical speed.
The information has become so accessible to all of us that seemingly everyone out there is bringing their ideas to life.
However, what if we told you that you only see the good sides of entrepreneurship and only hear about the top % of successful small businesses?
If you want to stay on top of the bandwagon and ensure that you can drive your business to success, during the discovery phase, you need to analyze the market as well as the tools which are available for small businesses, including things such as productivity and time management hacks.
Companies, such as Salesforce, for example, have made profits up in the billions when it comes to revenue due to the simple fact that they have been inventing solutions for small businesses with the goal of increasing the employee and, as a result, the company's productivity.
If your competitors start implementing these ideas and tools before you, you might end up falling behind, and if you really think about it, if you end up skipping out on these, you are compromising your productivity and in turn, are working harder, not smarter.
The perfect solution for any company would be to find a tool that allows it to focus on the task which is most important for the company's progression not on the mundane tasks, which can be replaced by a software solution.
As such, there has been a multitude of solutions out there that have been specifically made to help your business strive and go up the ladder, from web hosting services, cloud-based platforms, services, and technologies, to tools that will work locally.
🔥 FREE TRIAL: Get Started with LoopCV & Send Out 100s of Highly-Targeted Job Applications in <10 Minutes
If your business needs a bit of a boost, these are the tools to successfully manage, organize, and boost your small business to the top.
1. Slack
Slack is possibly one of the best communication tools for smaller companies.
It is an all-in-one communications solution that allows your team to communicate with one another, even remotely if they have through, through file sharing, phone calls, message search, and different emojis for a more personalized experience.
Slack is, in other words, the collaboration hub that you have been looking for, which can bring together the people, the information, and the tools your team requires to get the job done.
It is used by thousands of companies across the globe, and this is because it is highly intuitive to use.
For example, you can create different channels where team members are placed. Each channel serves a different purpose, project, or part of a project.
On each individual channel, different messages, files, and calls can be made, and then eventually looked up, allowing for an astronomical level of organization.
This, in turn, will result in you or your team members never losing a file or becoming unorganized as a result.
It also has a unique and minimal aesthetic that makes messages easy to read, and each individual company employee can personalize their profile with an image, custom name, slogan, and emoji, making things look less corporate and more fun.
Major integrations in Slack include services such as Google Drive, Trello, Dropbox, Box, Heroku, IBM Bluemix, Crashlytics, GitHub, Runscope, Zendesk, and Zapier.
2. Google Workspace
Formerly GSuite, otherwise known as Google Workspace as of recently.
This is a collection of cloud computing, productivity, and collaboration tools, software, and products that are developed and marketed by Google itself as the ultimate solution for any company.
Through this cloud-based software solution, you can set up an email client, track the analytics for any website, and even launch and manage ad campaigns.
However, it does not end there.
By far, one of the most useful features of Google Workspace is the fact that it allows you access to a whole range of online document editing software, such as Google Sheets, Google Docs, and so on, as well as giving you access to cloud-based storage.
Best of all, to some limited extent, you can get access to all of these tools for free; however, they are capped in storage, for example.
Nonetheless, it is an excellent way to bring your company's file management, file editing, and cloud storage to the next level.
More than 1000 organizations use Google Workspace.
3. GoCo
If you are having issues with your human resources department, or if you are an extremely small business or even a startup, and you do not have one established as of yet, GoCo is the tool you need.
It is essentially a cloud-based human resource, benefits, and payroll solution designed for smaller businesses, which automates your workflow without making you have any changes to your processes, policies, and providers.
As a result, the platform can automate the process of collecting the required documents for newly hired employees and enrolling them in the benefits plans, as well as adding them to the company payroll with the appropriate tax and benefits deductions set by default.
One of the stands out features of this piece of software is the auto-sync feature, accompanied by employee change, benefit deduction, new hire setup, and paycheck calculation.
This is the ultimate tool that your company needs if you want to make the life of your human resources department easier or simply want an HR solution that will quickly, efficiently, and automatically manage all of the tedious tasks that come with that section of the company.
4. Intercom
In its most basic form, this solution allows businesses to communicate with their customer base through an app, website, or social media.
The idea behind this app, and the solution as a whole, is to streamline the communication process with your customers.
Through Intercom, you can implement live chat, educational content, and even more for your web-based customers, allowing you to more easily interact, engage with, and communicate with your customer base, and as a result, give your company and brand a better reputation as well as a higher level of support to your customers.
5. SalesLoft
SalesLoft, at its core, is a sales engagement platform.
It allows you to find and gain more customers, specifically if they are other businesses that you want to collaborate or do work of any kind with.
The software has the goal of helping you increase your effectiveness with sales reps, and it has a built-in sales dialer, email that is built for sales, and integrations with tools such as Salesforce.
If you are looking for a solution to drive more sales, this is a must-have in any company.
6. Trello
Task management is important.
Ideally, you want to instantly know and see who is working on what, and Trello is made for that.
It is a team and task management platform which allows users to create boards and cards, set due dates, add notes, add files, and the list goes on.
The idea behind Trello is to give you an accessible table of contents as to what is being worked on, by who, by what due date. And as such, it does a wonderful job, as people can comment on tasks, attach files on tasks, make changes, change the deadlines, and so on.
It is an extremely flexible platform, and it does what it was built to do extremely well, and as such, it is extremely recommended for companies trying to step up their management.
🔥 FREE TRIAL: Get Started with LoopCV & Send Out 100s of Highly-Targeted Job Applications in <10 Minutes
7. Goodhire
If you want to onboard new employees, you need to follow a few steps, which can take up a lot of time from your day.
So instead of working on what matters most to you, you need to conduct background checks, identify verifications, reference checks, employment verifications, an interview where you test out the skills the person promises, and finally, verify the education and the degree.
Goodhire is the all-in-one solution that does this automatically for you, so you can just get on and find the perfect team member.
8. Upwork
If you want to work with independent contractors instead of employees, you need to look at Upwork.
Upwork is a freelancing platform where you can find some of the biggest and brightest talents in the world.
It implements a ranking system, where you can see what each person was ranked in previous tasks, as well as a task history, so you can review in-depth what the person who's applying to help you has worked on in the past.
The process is simple; you can create an account, deposit some funds, post a job that you want to be done, make it a fixed contract or an hourly contract, and start reviewing applications.
Chances are that more than one person will apply for the job, so you can give individual interviews and try to find the best talent for the job.
Best of all, Upwork has certain branches and skill sets that each person needs to fill in in order to start applying, which should allow you to filter out the people efficiently and find the perfect person for your specific job.
Upwork has over eighteen million registered freelancers and five million registered clients.
9. Quora
Quora can be implemented in your business in two ways; this is what makes Quora truly a tool any business should have.
Let's begin with the first way Quora can help your business.
Quora is a crowdsources Q&A forum. However, Quora requires all users to verify their identity, as well as background information.
This means that if you stumble onto something during your adventures in entrepreneurship, or simply put, you run into an issue with your business, you can ask a question on Quora, after which, someone qualified can potentially answer that question and help you out in a tricky situation.
However, there's another way Quora can help your business grow.
Each expert in your company can do the opposite, as in marking their credentials "Position in Company Name" and start answering questions.
This way, your company's staff will end up helping a lot of people as well as companies with answers, giving your brand and company excellent, free-of-charge brand recognition.
If someone is then looking for a solution based in your area of expertise, they have evidence that you know what you are doing based on the Quora answers team members in your company has provided to individuals or companies on the platform; it's basically free advertising if you think about it.
10. Zoom
When it comes to video conferencing, a lot of companies are providing their own take and solution. However, when it comes to the biggest one on the market, that crown goes to Zoom. Currently, Zoom is one of the most popular remote work tools that many companies cannot do without.
Through its free plan, without paying a single cent, you can host unlimited one-on-one meetings or group meetings of up to 100 members with a 40-minute limit.
Each person has a custom meeting ID and can share their screen.
There are multiple pricing plans that come into play when you decide to purchase a Zoom subscription. However, it is highly dependent on the needs your company has for this kind of software.
Through remote conferencing, your team members could be on different building floors, in different rooms, or even on different continents, allowing you to freely express what you have in mind and brainstorm ideas wherever you are.
You can also use Zoom to conduct online training and classes for employees who need that little boost, as well as do other activities that would commonly require you to meet in the real world, such as meetings, discussions, and even employee onboarding through virtual interviews.
At the end of the day, there are countless tools specifically made for small businesses.
You need to be consistently kept in the loop and know which ones out there are worth your valuable time and money because, after all, their purpose is to save you time and money.
Each tool serves its own purpose. However, each one has competed for software out there, and it is up to you to decide which one is the perfect fit for the needs of your company.
Hopefully, now you have learned something new with this list, and good luck with all of your future endeavors in the world of entrepreneurship.
Today, over 300 million people use Zoom.
11. OnPay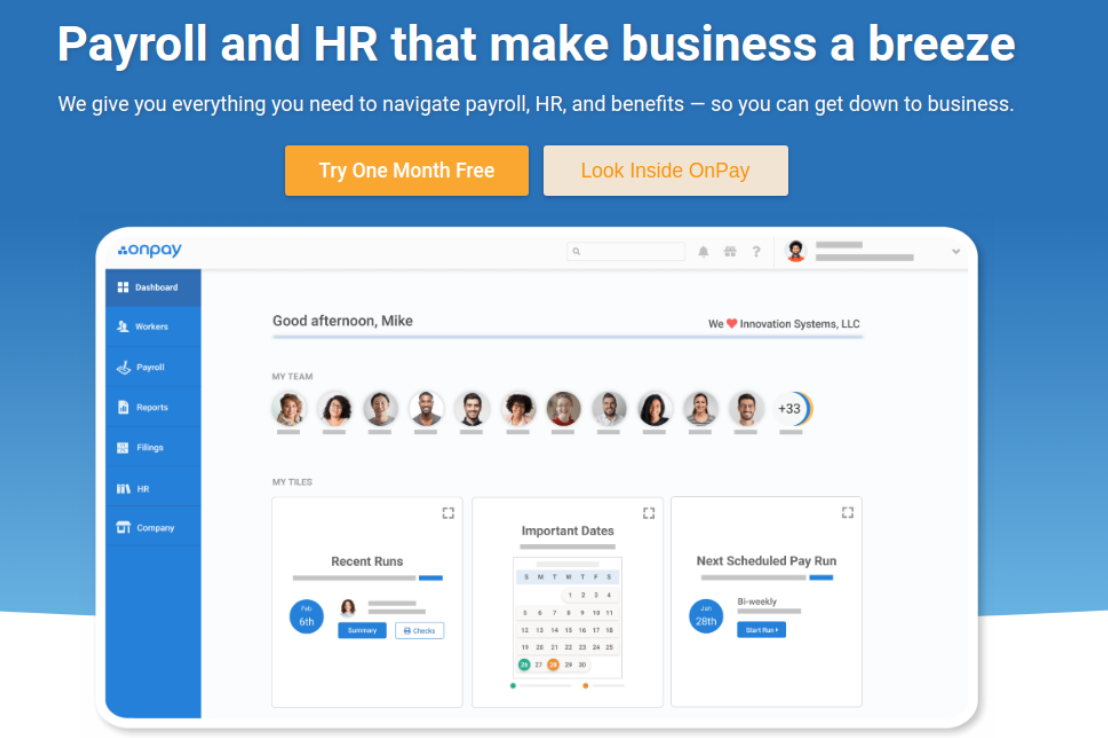 OnPay is a small business payroll software tool that helps entrepreneurs everywhere navigate payroll, HR, and benefits. The system is easy to access regardless of location (it's also available on mobile devices) and comes with a full-service payroll feature.
This way, you'll be able to pay your employees on time and also introduce and collect HR and pay-related data, such as hours worked, benefits, progress at work, bonuses, and so on.
Furthermore, the system also comes with a built-in automated taxes feature which will help you avoid mistakes and save time. Using OnPay, you don't have to worry about federal, state, and local taxes - all the calculations are done automatically.
Last but not least, OnPay has an advanced Report Designer feature where you can set up and save custom payroll reports. This way, it will be easier to keep track of your business's progress.
🔥 FREE TRIAL: Get Started with LoopCV & Send Out 100s of Highly-Targeted Job Applications in <10 Minutes
Conclusion
Starting a business can be overwhelming, but with the right tools and resources, entrepreneurs can make their journey easier.
In this article, we have discussed the top 10 small business tools that can help online entrepreneurs become more productive and successful.
They all provide different services that are essential for running a successful online business. Each of these services has its own advantages and disadvantages, which should be considered before making a decision on which one to use.
Ultimately though, these tools are invaluable for entrepreneurs who want to run an efficient and productive online business.
---
About the Contributor
Veselin Mladenov is the Content Manager of ThriveMyWay. He has more than 10 years of experience in the field of corporate marketing and sales, and decided to pursue his passion - digital marketing and content creation.
LinkedIn: Veselin Mladenov
Twitter: @VeselinMladeno6