Bringing or Taking Notes at a Job Interview: Is it OK to Do?
Notes During An Interview - Does it seem appropriate to bring notes with you, or is it acceptable to take notes during your job interview? The answer is "it depends."
Job interviews are about exchanging information, and this could make you feel you want to be sure about essential details and jot them down.
Either you have a poor memory, or you're interviewing with many people and you want to assure that you'll send a great customized thank you note, are some excellent reasons to take or bring notes with you during an interview.
But there is the right and the wrong way to do it in order to help you get the job.
Bringing Notes With You From Home Into a Job Interview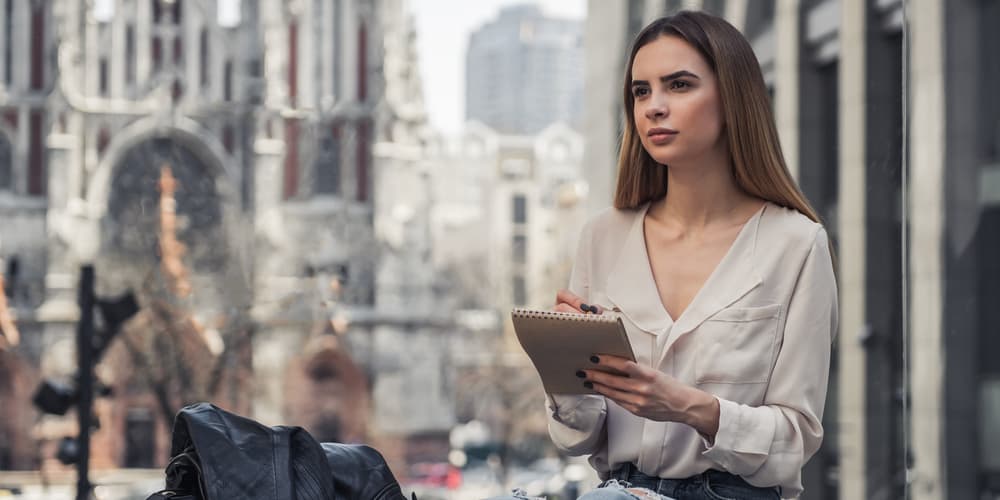 Having notes you've made for yourself beforehand to help you remember what you want to say during your job interview is always a bad idea.
Prepared answers and information about the company you're interviewing for are not the kind of acceptable notes to bring with you. For instance, it's never good advice to carry with you notes on how you plan to answer typical questions such as:
"Tell me about yourself," or;
"What can you contribute to the company?"
Referring to your notes to answer the interviewers' questions shows that you're not confident enough, and there may be concerns that the statements and the knowledge aren't your own.
Before any interview, spend some time researching the company you applied for and figuring out what you'd like to say to present yourself as the ideal candidate for the job.
Write your answers down and rehearse a lot of times.
Before any interview, spend some time researching the company you applied for and figuring out what you'd like to say to present yourself as the ideal candidate.
So, is it wrong to bring notes into an interview?
It's all going to depend on the content of those notes.
In some cases bringing notes with you during your job interview presents you as fully interested and eager about the job.
A prepared list of questions related to the company or the job description that you'd like to ask is one of the safest notes you can carry with you in a job interview.
This list could prove that you've spent some time searching about the organization. Wait until the interviewer asks you whether you have any questions, and then take advantage of your list.
You can also bring some extra copies of your resume just in case other professionals at your interview would like to have it. Referring to your resume could help you stay focused on your relevant qualifications and not waste time detailing irrelevant information.
Taking Notes During a Job Interview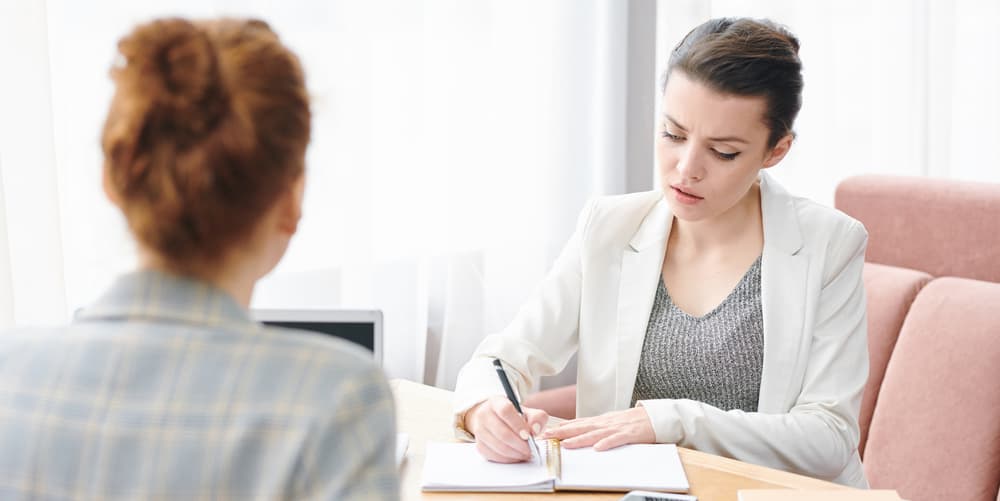 Generally, taking notes during a job interview is appropriate, and depending on the way you do it can help you get the job.
First of all, you should take the interviewer's permission to do it. For example, before you break out your notebook, let them know that you're doing so by asking:
"Do you mind if I take a few notes during the interview?" or;  
"Is it all right to jot down some notes related to the job position?"
Most interviewers will answer you "Of course."
In case they have any objections, you should go along with their preference.
Keep your notes brief by writing only the key points down and actively participate in the interview process without zoning out.
During your interview, it is crucial to stay engaged with the people interviewing you.
Your notes should be the ones you really don't want to forget.
Keep them brief by writing just the key points, and bear in mind that you should actively participate in the process and not make the interviewer think you may not listen to them.
After all, you are a candidate, not a reporter.
Make sure to fill out your notes as soon as possible after the interview.
Leave the building and take some time in your car or at a nearby coffee shop.
Improve their legibility and add some extra details you didn't get the chance to write down during the interview. It is important to record your impression of the company, the role, and the work environment.
Names, titles, and other information for any people you met will help you not only avoid getting embarrassingly mixed up in the future but also write a great thank-you note and prepare strategically for the next round of interviews.
What Types Of Interviews Are Best Suited For Notes?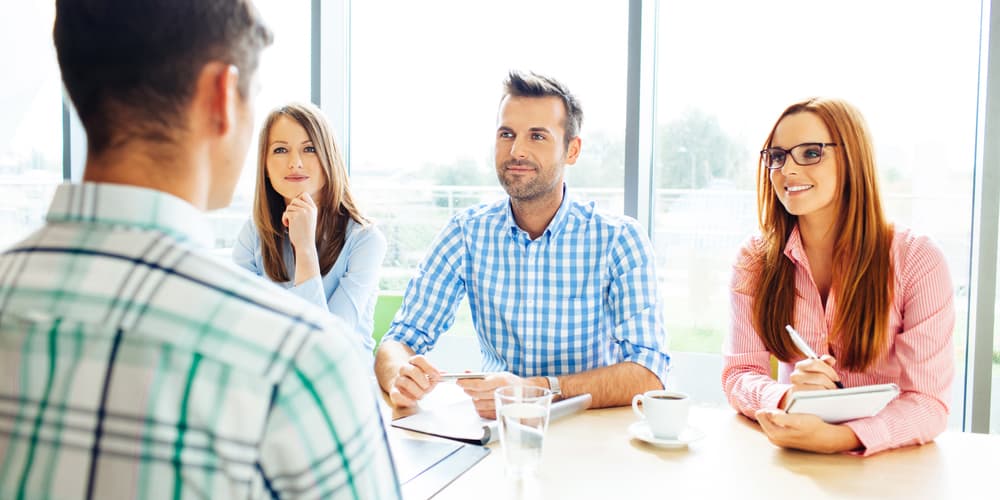 This method saves time because you only have to answer the interviewers' questions once, and the company can quickly pre-screen the top candidates for their opening.
Telephone interviews and virtual interviews, which an interviewer can take through online meeting tools like zoom, google meet, etc, are best suited for taking notes. You'll be invisible while you're jotting down, and there is no reason to ask for permission from the interviewer. Choose a notebook over a laptop since the sound of the keys clicking might be disturbing for the interviewer.
Also, group interviews offer you more chances to get notes while the others talk.
Group interviews are the same as individual ones but with two or more candidates in the same room. This interactive process will give you the chance to stand out from the other candidates.
Choose a notebook over a laptop as it will make it easier for you to carry things around and not seem overly-confident during the interview.
While the rest participants talk, you can write down some important points you want to highlight when your turn comes and avoid repeating what was already said.
If the interviewer asks you to complete a project as a follow-up, your notes will be more than acceptable.
You may be asked to do an assignment or a presentation for your following interview. In such cases, you should bring a notebook to jot down crucial instructions and details to remember for the next meeting.
---
To sum up, good interview note-taking can help you write a customized follow-up email and decide whether you still like the job.
But on the interviewer's hand, taking or bringing with you notes into an interview is not always appropriate.
Bringing copies of your resume or a list of questions is fine, but referring to your notes when answering questions is unacceptable.
Also, taking notes during an interview is a smart thing to do but only when done right.
Take advantage of LoopCV features and keep notes of hundreds of potential job opportunities gathered in one place. You'll not have to worry about whether or not the kind of interview is suitable for taking notes.
Originally published 6 Apr 2021
Frequently Asked Questions
Frequently Asked Questions
Is it OK to have notes during an interview?
In addition to bringing a checklist of questions you want to ask, copies of your resume or CV are always a good idea.
How do you take notes during an interview?
Taking notes during an interview demonstrates that you actually care. However, try not to break eye contact with your interviewer very often and stay engaged with them.
Is it OK to drink water during an interview?
Yes, drinking water during your interview is acceptable. Try to take sips of water at appropriate times (before or after being asked a question).